From fast food to 5-star restaurants, you can definitely order French fries wherever you go. Despite its name, they are most definitely not invented by the French, but regardless of the fact, it is enjoyed by many.
As one of the most versatile food product to come out, it has seen its influence in fast food and burger joints as a side order for your favorite foods. The variations are also endless: changes in flavor, sizes, dressings, and cuts, the presentation is unique every time.
The target market for this product can cover the whole demographic of the Philippines, from toddlers to grandparents. As such, you can find that this is a profitable venture by many (especially Potato Corner!)
Wouldn't you want to be part of the business by franchising to save you time and headache in learning the ropes your own? If you are, then you may want to take a look at the top 4 french fries franchises in the Philippines!
Sip Fries: French Fries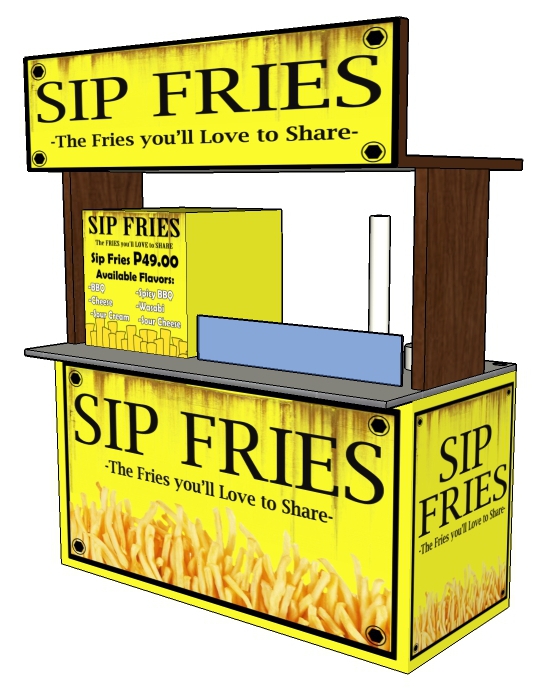 Sip Fries is one of the best deals you can get at the moment, the cost of investment is not too high, making it affordable for budget investors out there.
For Php 99,000, the franchise package includes:
The use of "Sip Fries" trade name
A mini high-end food cart (measures 7 ft x 5ft x2.5 ft)
Complete set of uniform of one service crew (includes shirt, visor and hair net)
Starting products worth P3,000.00
Business and product orientation
Franchise seminar
Hands-on training for you and your crew
Concept manual
After-sales support
Equipment for Sipped Fries food cart operation
A heavy-duty deep fryer
Juice Tower (3 sets)
Powder container and fries shaker (3 sets each)
Two tongs
Weighing scale
If you are wondering if there are other fees or hidden charges, fret not! You don't have to pay any monthly sale quotas, royalty fees, renewal fees, and hidden charges. You are in control of the sales and profits you receive from the franchise.
If you are interested in investing in this franchise, we have the contact information provided below:
Office Address
FaB Suffrage Inc / Fab Suffrage Food Services
17-A G/F St. Martin Bldg. Westpoint St. Cubao, Quezon City 1009
Landmarks: LRT Aurora Cubao Station in front of Gateway. Chowking corner WestPoint Street. After St. Gabriel and Dehadista Bar.
Facebook page: Fab Suffrage Inc.
Website: http://www.starfrappe.com  http://www.fab.ph
Email address: ifabfranchise@gmail.com
Telephone number: 02 219 5869
Mobile number: 0917 125 4451 | 0939 916 3425
For Free Consultation, Pre-Orientation preview, viewing of the show room, free product tasting and inquiries just set an appointment with Mr. Edison R. Gomez from Monday to Saturday from 10:00am to 6:00pm.
You can set an appointment with Mr. Edison R. Gomez from 10:00 AM to 6:00 PM from Monday to Saturday to avail for the free consultation, pre-orientation preview, show room viewing, free product tasting, and just inquiries in general.
Kerrimo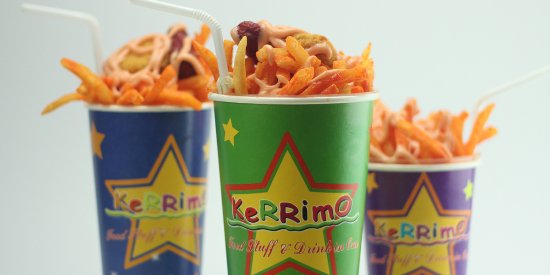 How many of you have experienced the hassle of carrying multiple food products while out and about? It is for sure that we have blunders spilling and dropping them all over the place, which is why Kerrimo was established as a food and drink combo that provides french fries, hot dogs, and other popular snacks available.
The franchise cost (ranging from Php 250,000 to Php 350,000) includes:
Construction of the cart and counter
Franchise fee of Php 100,000
In-house marketing
4 staff uniforms
1 unit of Range Hood
1 Complete Set of Utensils
1 Set of Office Supplies
1 Set of Cleaning Materials
4 pieces of uniform for the staff
1 unit of 9 cu ft Sanden Freezer
2 units of 8L Cap Deep Fryer
1 unit of 8L Tab Juice Dispenser
Free training for two staff members
Initial inventory worth 10,000 pesos for pre-opening
The best part is that they don't have royalty fees, meaning that you get to acquire all the profits of the franchise.
If you want to know more about Kerrimo franchise, you may contact them with the information below.
Office Address: : City Park Ave. Cor. Bahayang Pilipino Village, City Park Subdivision, Sabang, Lipa City, Batangas, Philippines
Website: www.kerrimo.com
Mobile number: 0917 823 3310
Landline number: 043 774 0570
Email address: franchise@kerrimo.com
Facebook page: kerrimoPH
Potato Fries
Owned by FoodcartLink Services (FCL), the food cart provides similar taste and quality compared to expensive franchises out there. Their business model franchise is offered at a budget capital for those who do not have much money to invest but want to get a high profit margin.
For Php 29,900, the package includes the following:
Semi high-end built cart (not collapsible)
Initial inventory
Crew uniform
Video training and operations manual
Costing and pricing
Electric deep fryer
Juice container
Utensils and wares
E-loading business (optional)
If you are interested in applying for a franchise, you can contact them through the provided information below.
Office Address: FoodcartLink Services, 3/F Rubetan Bldg. (ICC Las Piñas), #88 Alabang-Zapote Rd., Pamplona, Las Piñas City, Philippines.  (in front of Tuazon Village)
Website address: foodcartlink.com
Email address: info@foodcartlink.com
Landline numbers:  02 340 0156
Mobile numbers: (Sun) 0922 862 6154 | (Smart) 0921 951 3522 | (Globe) 0917 848 3522
Mix 'n' Fries: French Fries
Tritop Venture's food cart concept Mix 'n' Fries is perfect for budget capitals less than Php 100,000. This package includes the necessary equipment, products, trainings, and seminars to train the staff and franchisee.
For Php 35,000, you can get a package that includes:
Right to use the name and logo
Collapsible food cart
1 set of crew uniform (shirt)
Php 1,000 worth of sample products
Franchisee training
Deep fryer
Weighing scale
Fries shakers
The combination of the package and the savings you get cannot be understated, so if you are interested, here are the following contact numbers of Mr. Borgy to inquire more about the franchise.
Telephone number: 02 636 3852
Mobile numbers: 0917 794 9846 | 0917 3286 524 | 0998 972 1346 | 046 418 9532