Currently, this is a hit on the streets throughout the country.  Children of all ages as well as adults of any status in life still craves and revels to this flavoursome cold refreshment any time of the year. Thus, this gives you an idea that this can be a great product to franchise as it requires no season to sell.  The target market of gulaman and samalamig is so huge that even if you just target only 10% of the entire community, there is a sure market to supply to and a business to manage. What a great and refreshing way to start this cold business.
Our Sagot at Gulaman Food Cart Franchise is Gulaman Corner!
Franchise Starts at P99,000.00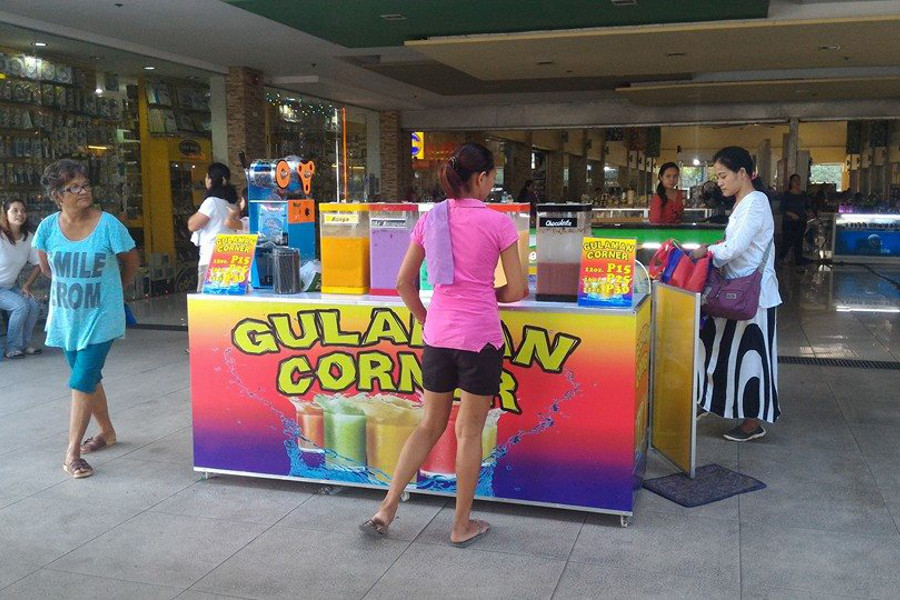 Inclusions:
The use of "Gulaman Corner" trade name
A mini high end food cart (measures 7 ft x 5ft x2.5 ft)
Equipment for Gulaman Corner food cart operation

Acrylic juice container with ladle (Five sets)
Cooking equipment
Pitcher and dispenser

Complete set of uniform of one service crew (includes shirt, visor and hair net)
Starting products worth P3,000.00
Business and product orientation
Franchise seminar
Hands-on training for you and your crew
Concept manual
After-sales support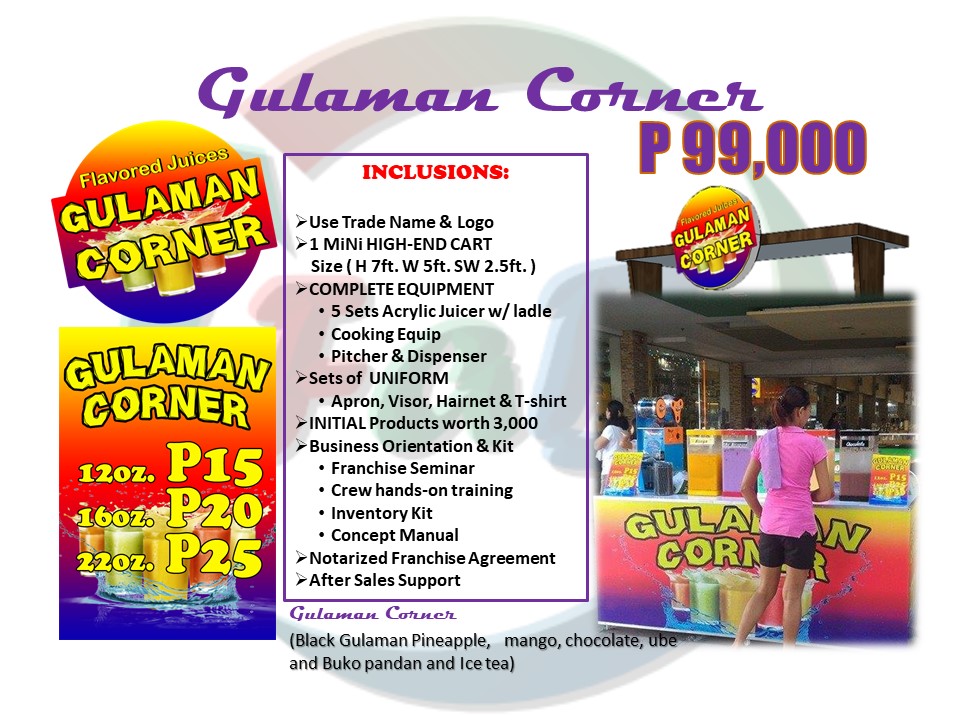 More Awesome Pictures of Actual Happy Franchisees
Contact Information
Mr. Edison Gomez: 0917-1254451  / 0939-9163425 / 02) 219 5869. www.starfrappe.com.ph
You can also send an email using the form below:
More About Sago at Gulaman
The Philippines is considered as a tropical country and as such the concoction of any creative cold drinks is constantly evolving to beat the heat that Mr. Sun is always radiating.  Any beverage on ice is always a hit to anyone who is travelling as temperature is relatively stable around 34c throughout the year.  However, during summertime it shoots up and everything around is hot and humid.  Thus, when ice was invented and introduced to the country, the creation and recreation of drinks just became very popular and people just loved and enjoyed it.
The most popular among these drinks is the tasty and colourful "Sago at Gulaman Samalamig".  The nearest description to this refreshing drink is Pearl and Jelly Coolers. 'Sago' is actually tapioca pearls that are made of starchy material formed as chewy balls.  'Gulaman' on the other hand is the Filipino version of the Jell-O in America.  This perfect combination is then mixed with water diluted in brown sugar cooked with Pandan leaves and chunks of ice to give the sweet taste. 'Samalamig' which is referred to as the peddled drinks in the streets came from the word 'palamig' meaning 'to cool down' and this perfectly makes the drink sweet, colourful and vibrant.  Thus, if you interpret this icy refreshment it will taste like: sweet tapioca pearls and jell-o on ice.  The best thirst quencher you can get all year round.