Buko Fresh
Nowadays, the buko juice has evolved and has joined the bandwagon of smoothies and shakes. Buko shake is a very simple beverage to make as it uses the very basic ingredients which are: the coconut meat, (which has of course) the coconut juice, and sugar mixed with ice and blended to a tasty and refreshing shake.  This blend actually makes a healthy shake as it is pure coconut with a little sugar in it. For the creative ones, milk, pandan jelly, lime, and honey can be added to make it even tastier and exciting.
With this, who would resist a healthy drink? This even gives you a good reason to make this a better business alternative as it does not need any marketing for people to patronize. So, grab the best buko juice, buko shake franchise in town, and start a refreshing business especially on hot summer days.
Our Buko Juice Franchise Concept is Buko Fresh
Franchise Starts at P149,000.00
Inclusions:
The use of "Buko Fresh" trade name
A mini high-end food cart (measures 7 ft x 5ft x2.5 ft)
Equipment for Buko Fresh operation

A heavy-duty blender
An electric ice crusher
Styro box with an egg beater
Measuring cups
Pitcher and dispenser

Complete set of a uniform of one service crew (includes shirt, visor, and a hair net)
Starting products worth P3,000.00
Business and product orientation

Franchise Seminar
Hands-on training for you and your crew
Concept manual

After-sales support
Contact Information
Mr. Edison Gomez: For faster response to inquiries 0917-5323708 / 0998.5928617 please email at ifabfranchise@gmail.com.
You can also send an email using the form below:
[contact-form to='ifabfranchise@gmail.com' subject='Inquiry: Buko Fresh (Fab.ph)'][contact-field label='Name' type='name' required='1'/][contact-field label='Email' type='email' required='1'/][contact-field label='Contact Number' type='text' required='1'/][contact-field label='Message' type='textarea' required='1'/][/contact-form]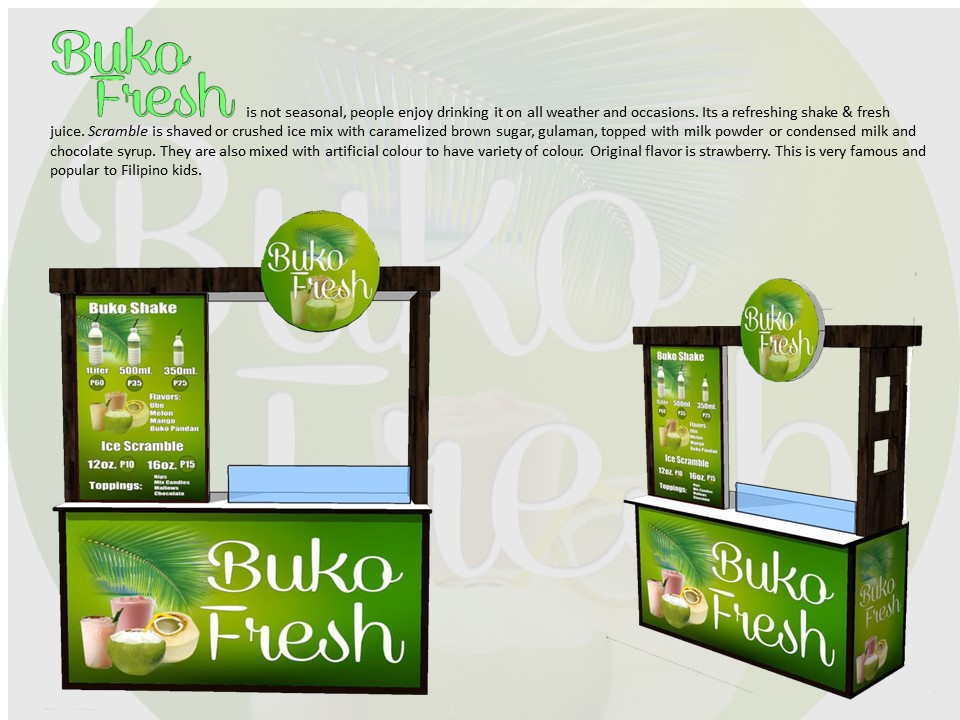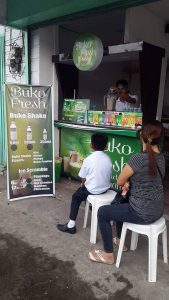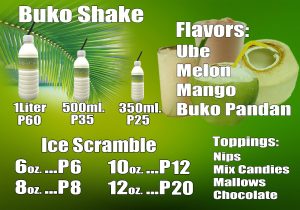 More About Buko Juice
The coconut is always considered as a wonder tree and its fruit gives a lot of advantages. Coconut water is known to be a good natural electrolyte as it contains potassium that is very much needed by the nourishing body. Its carbohydrate content is relatively lower and is a very good source of everyday drink as compared to a sports drink. But of course, the healthiest of them all is still water.
Buko, which is the Filipino term for coconut is a famous cold drink not only during the summer time but even for the entire year as well.  It is a good alternative for a healthy drink as it has more benefits that you can think of. Not only nutritionally but it also has beauty enhancing properties that is beneficial for the skin and the body as well.
Coconut juice or buko juice for most Filipinos come from the belly of young coconuts which is the best source of coconut juice. Its benefits are quite impressive in terms of nutrition.  Surprisingly, with only one cup serving of the raw coconut juice, it only contains 46 calories. But it can have 600 milligrams of potassium, 252 milligrams of sodium, 58 milligrams of calcium and 60 milligrams of magnesium.  It also has B vitamins and bioactive enzymes that help aids digestion and metabolism. These and more are the things our body will get with just one cup of fresh buko juice.