Because of this, the concept of the buy 1 take 1 burger made its way in the franchise world as one of the booming products.  This just shows that this easy to prepare snack is gaining market because of its affordability and it can even serve as a complete meal to a person who is always on the go.
With the rise of this burger deal in the country today, it has already become a household name for snacks among people of all ages from all walks of life.  There is no doubt that investing in this franchise will surely be a success.  Bear in mind that the food business is one area that is promising in terms of profit and sales.  Although in anything, this will not guarantee stability if you do your share in the game, it will definitely reap results.  Be inspired by the people who thought about this business and make your own variation so it will be something personal and fulfilling to you.  Now I am hungry.
Heaven's Hamburger is Our Buy 1 Take 1 Burger Franchise!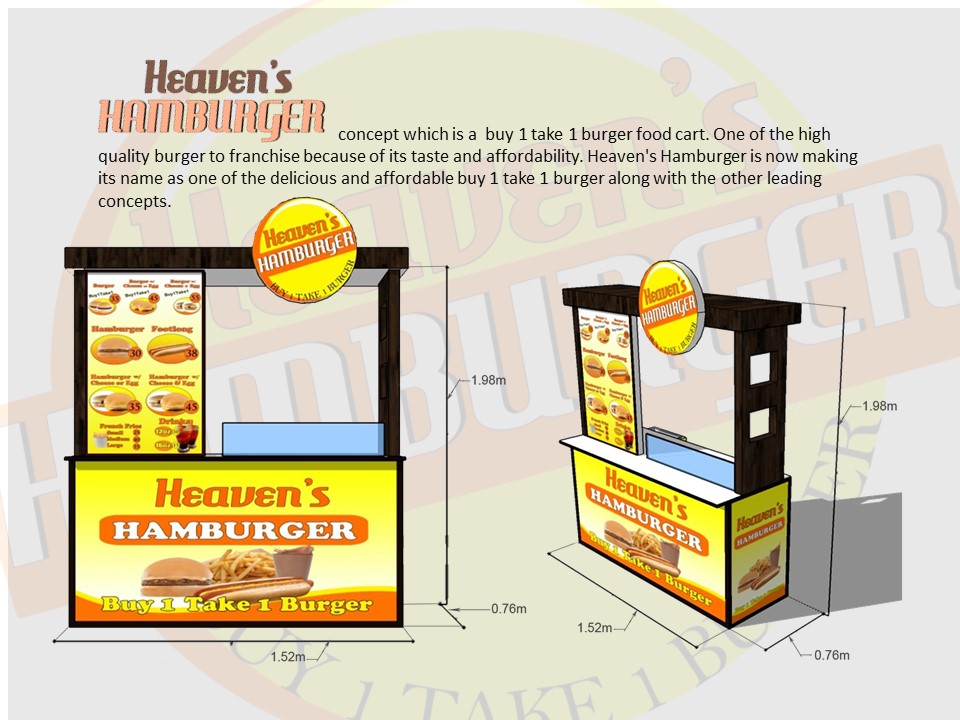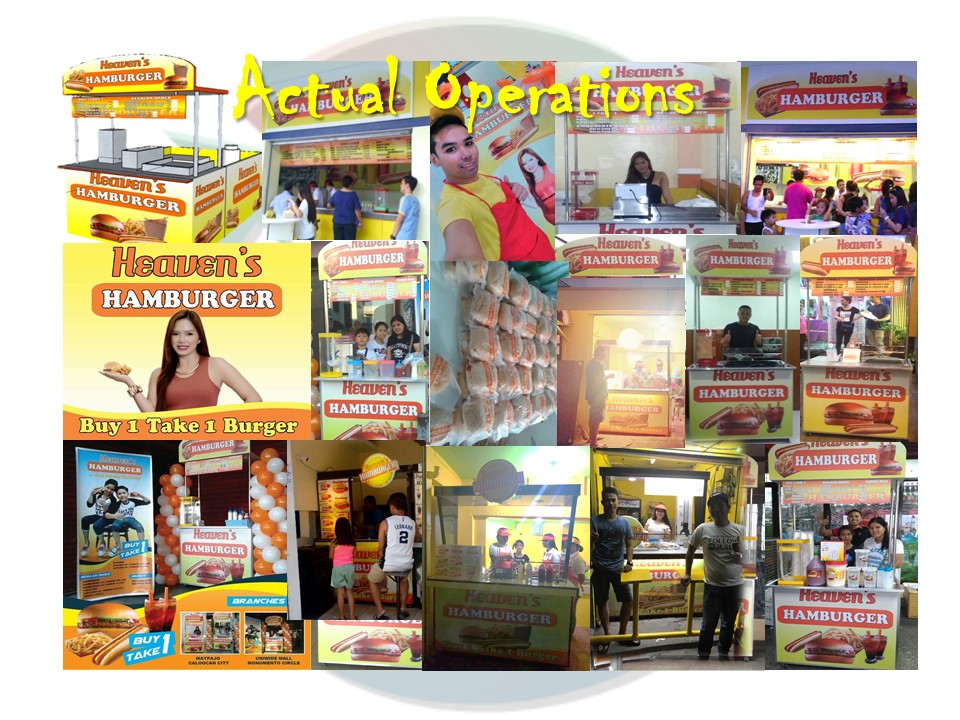 Franchise Starts at P179,000.00
Inclusions are:
The use of "Heaven's Hamburger" trade name
A mini high-end food cart (measures 7 ft x 5ft x2.5 ft)
Equipment for Heaven's Hamburger operation

A heavy duty griller and fryer
Acrylic juice container and ladle
Sauce Dispenser
Tong and spatula

Complete set of a uniform of one service crew (includes shirt, visor and hair net)
Starting products worth P3,000.00
Business and product orientation

Franchise Seminar
Hands-on training for you and your crew
Concept manual

After-sales support
Contact Information
Mr. Edison Gomez: 0917-5323708  / 0998-5928617 / 02) 219 5869.
You can also send an email using the form below:
[contact-form to='billionairesclubph@gmail.com' subject='Inquiry: Heaven's Hamburger (Fab.ph)'][contact-field label='Name' type='name' required='1'/][contact-field label='Email' type='email' required='1'/][contact-field label='Contact Number' type='text' required='1'/][contact-field label='Message' type='textarea' required='1'/][/contact-form]
More About the Hamburger
The hamburger is a kind of sandwich that is made up of cooked beef patties that are placed inside two slices of roll or bun.  This can be cooked in a lot of ways. The popular one is by pan-frying and others are cooked through barbecuing or flame broiling. Whatever the way it is cooked, the quality of the meat or beef makes the sandwich much tastier. What to include in the sandwich varies from the simple beef patty to slices of cheese, a few lettuces, slices of onions and for a more flavorful treat, it can be served with mayo, coleslaw, ketchup and sometimes even mustard on it.
This heavy snack treat is American in influence if you trace its history and this explains why it is so popular among Filipinos. The widespread burger chains in the country are an indication that indeed Filipinos are relatively meat eaters and that hamburger is topping the list among the favourites.