We can't deny that milk tea is one of the most popular and saleable beverages up until now. This business has been getting crazier in our country over the past few years. It's no surprise that people these days are willing to line up and wait for hours just to taste milk tea. Since it constantly captured the hearts of Filipinos especially teenagers and adults.
Due to hot weather in our country, cold drinks and refreshments are easy to find. We have different juices, shakes, and soda; however milk tea is a new taste for us. Luckily, there are a lot of milk tea shops around the city as well as nearby provinces. After seeing the long queues and tasting the actual product, now you've just realized that you want to have it as your own business.
Of course, there are a lot of well-known milk tea brands in the Philippines that became part of our daily life. Those popular brands are usually originated from other countries such as Gong Cha, Coco Milk tea, and Chatime. Some of them are under franchise business, and offers to all interested franchisees. Well, one of the easiest ways to start your milk tea shop or stand is through franchising.
If you are planning to enter a milk tea franchise, let us introduce you the Fab Chai Milk Tea. It is one of the affordable yet authentic milk teas in the market. Fab-Chai Milk Tea is an alternative franchise business for entrepreneurs who are afraid to invest in other expensive brands.
About Fab Chai Milk Tea
Fab Chai Milk Tea was originated here in Philippines and released by Fab Suffrage Inc. last January 2020. It's really obvious that milk tea business is a great hit in our country, however not everyone can afford those big franchise fees. That's when they have decided to create a milk tea franchise that is cheaper yet still competitive in the market.
Fab Chai Milk Tea has different variety offer such as Yakult drinks, Smoothies, Tiger Sugar, Fruit Teas, Special, and Original milk tea flavours.
Despite of being a latecomer, Fab Chai Milk Tea was able to catch and prove their products in the market.
Franchising Details:
Inclusions:
Thermos Jug 12L
Water Boiler with Tea Net
Cocktail Shaker
Jigger & Stirrer Etc.
1 Set of Uniform (T-shirt, Apron, Hairnet)
1 Set of measuring cups
3 sets canister box
1 styro box
3,000 worth of products
How to Franchise Fab Chai Milk Tea
Step 1: Make an appointment for orientation and food tasting.
Step 2: Look for your target location. If you already have, kindly indicate the complete address and information to the marketing assistant.
Step 3: Payment and signing of franchise contract.
Step 4: Attend the schedule of your hands-on training.
Step 5: Releasing of Cart/Coffee Shop (within 2-4 weeks)
Step 6: Set up and delivery.
Profit Margin
Of course, one thing that we consider in starting a business whether franchise or independent is its profit. Is Fab Chai Milk Tea a profitable business? The answer is "yes".
Upon checking, the profit in different cup and flavours is up to 40-70 percentages which are truly consider as higher than usual.
We will show you the sample computation to make you believe.
For example: The cost per of 16oz cup of tiger sugar milk tea is Php35.85 and selling price is Php79.00, so you will get a 55% or Php43.15 profit. If you will sell 300 16oz cups of tiger sugar milk tea in one month, you can earn around Php13, 000.
In this breakdown, the cost includes all ingredients needed as well as straw and cups to make a 16oz cup of tiger sugar milk tea. However, the electricity, rental, and salary of staff are not involved on the said costing.
Contact Information:
If you wish to contact the company for inquiries and concerns, you may reach EDISON GOMEZ at:
Mobile Number:

09175323708 / 09985928617
https://www.facebook.com/FoodCartFranchisingServices/
Pros and Cons of Fab Chai Milk Tea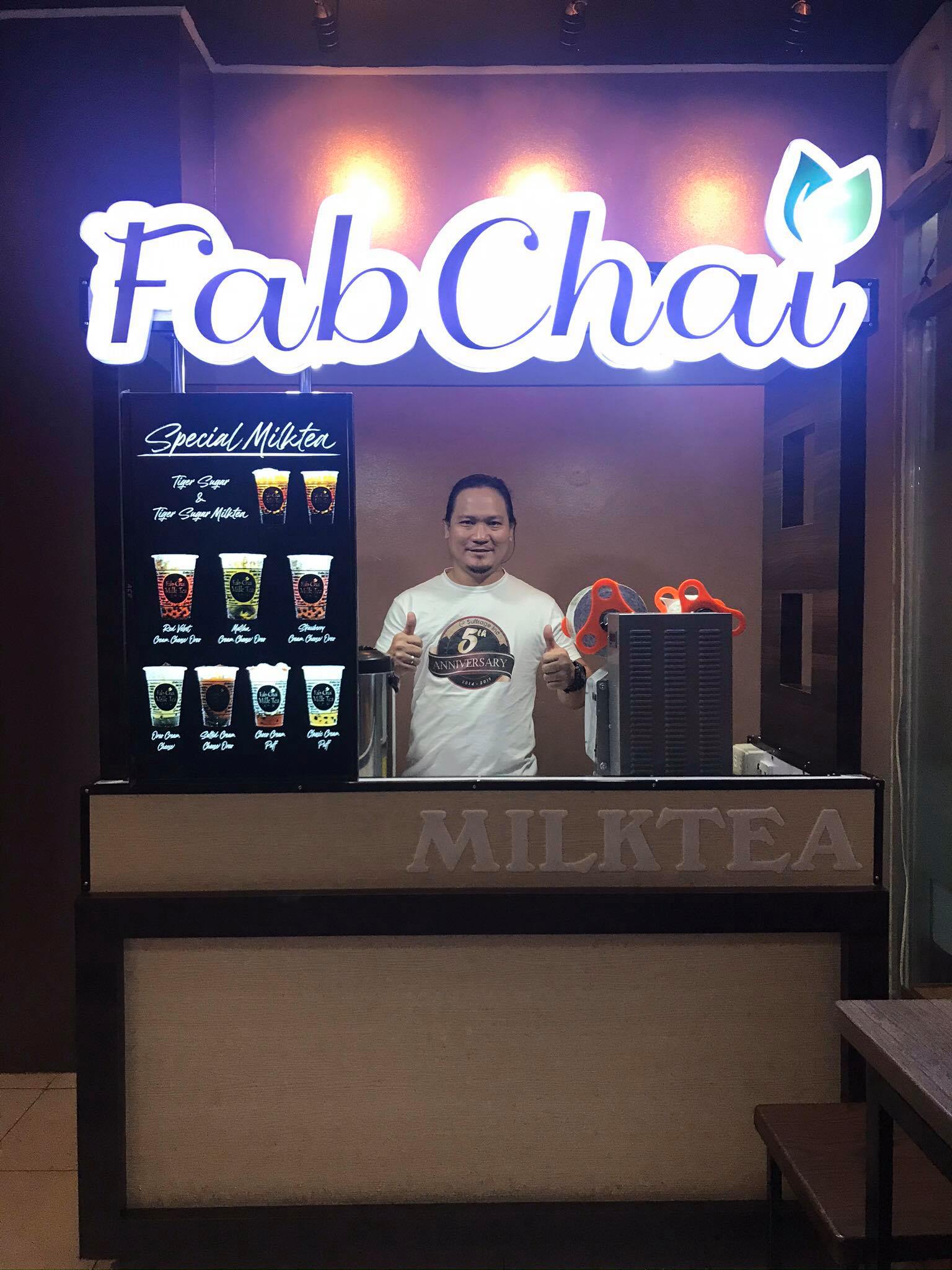 The Fab Chai Milk Tea Franchise package includes a contract term of one (1) year; however it can be renewed yearly without any fees. They are also not charging fees such as royalty, advertising, or sales percentage. Your main responsibility as a franchisee is strictly order supplies or stocks with them. Its package also includes kiosk cart, set of equipment, hands-on training, and uniforms for your staff. In short, all that you needed to start the milk tea business is almost given by your franchisor. You can set an appointment for orientation and food tasting with them for free, and that's a good thing.
Even though Fab Chai Milk Tea is a great and competitive business nowadays, it has also disadvantages. Interested franchisees will be responsible to look for their target location as well as the staff. They are also the one to pay all their expenses such as rentals, utilities, salary, and other operational funds needed. However, those disadvantages can be easily overcome if you have the capabilities and strong will to make it.
Quick Reminder: A good location is one of the key on your business success, so make sure to choose a perfect one. Nearby universities, offices, hospitals, and other high foot traffic place is the most suitable. Of course, having a great customer service is also needed to create loyal customers.
Tips on How to Have a Profitable Milk Tea Business in Philippines
Many of us see milk tea as a good drink and thirst quencher in these past few years up until now. We can't deny the fact that it is one of the most marketable businesses nowadays. However, as the increase of competition goes by, do you think that starting a milk tea shop or stand would still be profitable? Let's discuss about it.
If you plan to start your own milk tea business whether franchise or independent, you should have a proper knowledge and training to refrain from losing a lot of money.
Investment for Milk Tea Business
As per checking, if you plan to have your own milk tea shop, you will invest around Php20, 000 to Php100, 000. But, it was just an estimated amount needed right before the opening. It usually depends on how big you want to start your business.
You can also start a milk tea shop or stand with the help of franchising companies. There are a lot of well-known brands here in our country, which is literally needs a huge amount of investment. However, there are also small franchising companies that offer good deals in cheaper franchise fee.
Below are the milk tea franchising companies that offer Php50, 000 to Php300, 000 packages.
Happy Cup – Php250, 000
Fab Chai Milk Tea – Php99, 000
Cha Thai – Php299, 000
Before buying a franchise, make sure to do some research and background of your prospect companies. Try to inquire and ask the details of milk tea franchise they offer. Stick on your budget.
Well, it really doesn't matter what you will choose to start your milk tea business. The most important thing is how you can make it profitable even if there are lot of competitors and challenges along the way.
Here are the tips to have a profitable and progressive milk tea business.
Spend time in seminars and training.
As we have said, knowledge is everything. However, skills and expertness is also needed before entering a business.
You may inquire those business seminars and trainings that might help you boost the skills and talent within. It will also gain your confidence to pursue the business you want to start.
Look for the best location.
We knew that location or place of business is one of the key to find success and profit for you.
For milk tea shops, the best locations are usually in nearby universities/schools, offices, hospitals, and transport terminals, where people come and go.
Reminder: You may also check if there are existing milk tea business along the area. If there's a lot, competition would be tight for you.
Have a good customer service.
They always say that having a good customer service keeps a client happy and satisfied. It will also increase the customer's loyalty and devotion in purchasing your products and services.
Of course, it's your responsibility to teach your staff on how to provide an exceptional service with the customers. This will make you stand-out on your competitors and build a good reputation.
A piece of advice: Always inspire and motivate your staff. Give rewards once they reached the required sales or quota.
Use the latest marketing strategy.
Nowadays, small and big businesses uses social media as an effective marketing tool. You may create your own Facebook Page, Instagram Account, or Youtube Channel to reached thousands of viewers which can be your prospect customers soon.
If you have a budget for marketing promotion, you may create event and invite social media influencer to endorse your products and services.