Today, as it reaches this generation of eaters, the French fries have also progressed and made its name in the eating market making it one of the in-demand foodstuffs in the food industry.  The variations made with French fries through the years just proved that potatoes' are still the core and basic element needed to satisfy one's food cravings.  The additional style such as flavors, dressings, sizes, cuts, and presentations just add to the thrill of consuming and eating.  The most awaited part is still the delicious fried fresh, crisp potato filled with goodness.
With this knowledge, one can truly venture into a French fries franchise.  There is no doubt that the market for this business is so huge that even a one (1) year old toddler can be a possible consumer up to the senior citizen ages sixty (60) and beyond.  This almost targets people of all ages from all walks of life in any part of the Philippines.
Engaging in a franchise with French fries (oh and this rhyme) as food choice is likewise a good business move.  Experts say that food is still the best and productive segment that will assure you of more returns and guarantee you a stable investment.  To add, the world is ticking and every second that passes by, a lot of mouths are waiting to be fed.  This means one can never go wrong with food as the theme of its business.  Remember, everyone on the planet needs to eat, and providing them with a choice to nourish them is quite meaningful in the end if you think about it seriously.
Sip Fries are Our French Fries Food Cart Franchise!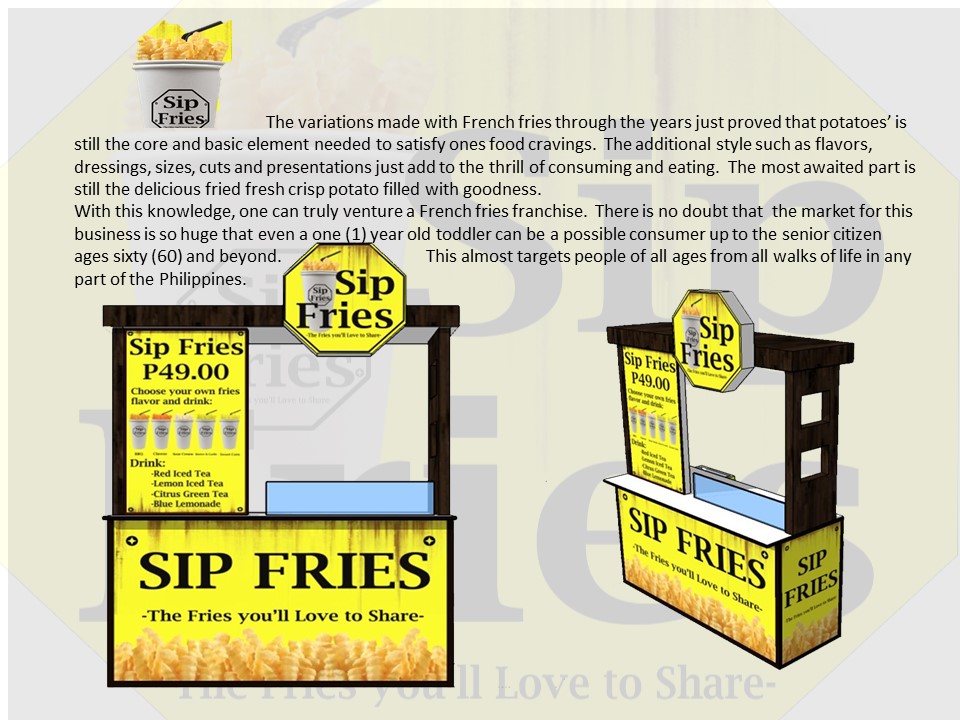 Starting at P99,000.00
Inclusions are:
The use of "Sip Fries" trade name
A mini high-end food cart (measures 7 ft x 5ft x2.5 ft)
Equipment for Sipped Fries food cart operation

A heavy-duty deep fryer
Juice Tower (3 sets)
Powder container and fries shaker (3 sets each)
Two tongs
Weighing scale

Complete set of a uniform of one service crew (includes shirt, visor, and a hair net)
Starting products worth P3,000.00
Business and product orientation

Franchise Seminar
Hands-on training for you and your crew
Concept manual

After-sales support

Contact Information
Mr. Edison Gomez: 0917-5323708  / 0998-5928617 / 02) 219 5869. www.fabcaffe.com.ph
You can also send an email using the form below:
[contact-form to='billionairesclubph@gmail.com' subject='Inquiry: Sip Fries (Fab.ph)'][contact-field label='Name' type='name' required='1'/][contact-field label='Email' type='email' required='1'/][contact-field label='Contact Number' type='text' required='1'/][contact-field label='Message' type='textarea' required='1'/][/contact-form]
A History of French Fries
Intriguingly, French fries were not made by the French people.  Surprisingly, the concept of frying sliced potatoes originated from Belgium – a country that describes Frenching as a food cutting method and French frying as a specific cooking method.  Thus, the word French fries to describe how potatoes are made to be tasty.  However, culturally speaking, French fries' is truly American in terms of cuisine.  This thin strip of potatoes deeply fried in oil to create that extra crispy taste is now a popular snack all over the world.
Even among Filipinos, French fries' is now a regular food choice in any diner in the country.  From a simple snack bar to a fancy restaurant, French fries' is a definite bestseller.  These crispy potatoes can be a constant partner to any meal from morning to evening.  It can also be eaten at any time of the day and is even addicting as its taste is truly enticing to the palate.  Others even make French fries as one full meal.  It makes sense as it is easy to get and gobble especially for the busy Juan.  This is also why children keep on indulging in French fries, as potatoes itself is appetizing, yummy, and very tasty.