Burgers have become a fast food favorite among Filipinos. Its handy appeal makes it a go-to food for people on the go, and for those who need a quick fix to satisfy their hunger on the road.
That is why through the years, many hamburger brands sprouted not just in malls. Where else can those hungry people find and grab a quick hamburger than the streets.
Pioneer In The Streets: The Burger Machine Franchise Story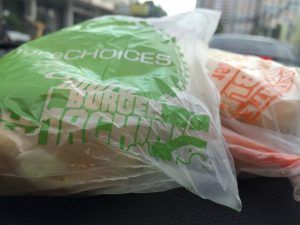 Burger Machine Holdings Corporation, or more commonly known as Burger Machine, is arguably the pioneer in serving hamburgers outdoors. Who else can forget their unmistakable counters in street corners?
The brand started out in 1981 by two sisters who adapted a concept from America and planned to turn two small buses into mobile stores. They began with a capital of P40,000, and employing nearly two dozen employees working in shifts to man the stalls. This 24-hour service made Burger Machine be known as "the burger that never sleeps."
Through the years, Burger Machine opened  a number of branches, including stalls and full-scale fast food restaurants. As of 2011, Burger Machine has opened more than a thousand stalls all over the country, earning the title of "the National Burger Stand of the Philippines."
Unfortunately, the brand felt the lash of the financial crisis in the 90's, forcing them to close down several branches and restaurants. At present, Burger Machine is back to its root operation.
What it has right now as a small chain of street stalls still serves their "Bart Burger," and through the years, even expanding to the buy 1 take 1 product gimmick..
Contact Website: https://www.facebook.com/BURGER-MACHINE-46498512876/
Heaven's Hamburger Franchise: A Fast Rising Brand As A Burger Machine Alternative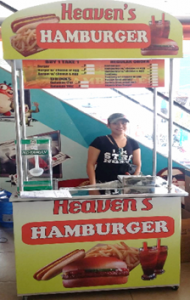 Now that Burger Machine has stopped accepting franchises, eager businessmen who wish to venture in the burger business would have to look for other avenues. Fortunately, Fab Suffrage Inc. offers a brand that is sure to be a hit in this food market.
To make its presence felt in the hamburger industry, they are introducing Heaven's Burger as the company's arm in the buy 1-take 1 hamburger business.
As with other competitors that offers buy 1 take 1 products, Heaven's Hamburger offers buy 1 take 1 products like their plain Burger, burger with cheese, and burger with egg. Completing the brand's menu are other products like plain Ham sandwiches, ham with cheese, ham with egg, footlong with cheese or egg, French fries, and drinks.
Fab Suffrage Inc. commits to adhere with strict quality control, ensuring that their products are at par with quality and taste. Heaven's Burger is ensured to deliver quality products made from fresh ingredients.
And for PHP 59,000, interested investors can avail of a Heaven's Hamburger franchise. These are wht is to be expected in a Heaven's Hamburger Food Cart Franchise package:
Semi High End Cart
Complete Set of Heavy Duty Equipment
Utensils and Wares
Initial Inventory costs Php 3,000
Crew Uniform (T-shirt, apron, hairnet)
Franchise Seminar
Crew Hands-on Training
Inventory Kit
Video Training & Operations Manual
Costing and Pricing Manual
Notarized Franchise Agreement
After Sales Support
Heaven's Hamburger franchise offering has no royalty fee, no renewal fee, no hidden charges, and no sales quota. They also promise a return of investment in five to six months. Fab Suffrage, Inc is offering Heavens Burger for franchising and distributorship nationwide.
Fab Suffrage, Inc. will also assist in recommending locations, and will also extend assistance with business registration.
To learn more about the brand, interested parties can visit FaB Suffrage's home office at Ground flr. St. Martin Bldg. Westpoint St., Cubao, Quezon City, Philippines 1109. Contact Mr. Edison Gomez at 09985928617 / 09175323708.