When it comes to business proposals, what often comes up to mind? Location! Take for example, the Philippines. It's a tropical climate known for its hot weather. People are always on the go, and the heat makes it unbearable at times that you would be inclined to thirst your quench.
Cold beverages are the king for anyone who wants to feel the cold! Which is why sago't gulaman is a popular drink for merienda: it's cheap, accessible, and can make anyone beat the heat (at least for a while).
A good business like Black Pearl adapts to the market by serving something like sago't gulaman but better! For a decade, Black Pearl has managed to gain a share in the market and profit from it. Don't you want too? If you do, you have come to the right place, keep reading to know more!
Brief Background of the Black Pearl Franchise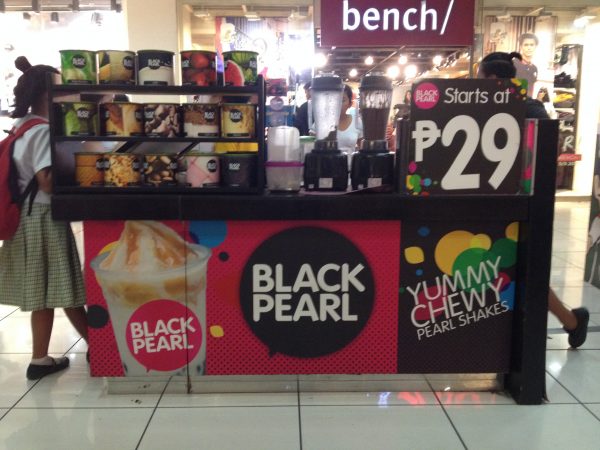 Banking on the trend of healthy living in the Philippines, Fruitas Holdings, Inc. opened its first "Fruitas" Fresh From Babot's Farm on February 1, 2002 at SM Manila. Fast forward to 2017, FHI now has more than 800 profitable stores across the Philippines located in prime commercial establishments and institutions.
Since its establishment, FHI has expanded its brand portfolio to include Buko Loco, De Original Jamaican Pattie Shop and Juice Bar, Juice Avenue, Johnn Lemon, Black Pearl, Buko Ni Fruitas, Fruitas Ice Candy to name a few.
The company continues to make a name in the industry with its growth in number of outlets, expansions through acquisitions, and development of new business concepts and formats such as food parks and wine cellars.
Fruitas Holdings, Inc. found its niche in the market by providing fresh and affordable products to the middle class. Most of its products are freshly prepared at the stores and its commissary ensures that products are delivered to the stores are of the freshest quality. These are made possible on its strong internal research and development, marketing team, and supply chain.
Fruitas Holdings, Inc. owes its success to the Filipino community who patronized its products throughout the years.
Aside from providing fresh and healthy beverages, Fruitas Holdings, Inc. gives back to the community through its programs.
Equal Job Opportunity:
Deaf-Mute people are trained and employed to become stores' service crew.
Touched by Fruitas. Selected children of employees and deserving students from beneficiary schools are provided with educational assistance.
One of the pioneers in the sago craze, Black Pearl offers exciting flavors with yummy and gummy sago to delight your sweet cravings while you are on the go.
Black Pearl Franchise Packages
Franchise fee: Php 250,000
Includes the following:
Use of propriety marks and trade name
Basic equipment, wares and utensils
Standard cart (3-4 sq. m) or counter (not more than 6 sq. m)
Initial inventory (good for 2 to 3 days)
Marketing materials (balloons, flyers, tarpaulin, menu, loyalty card, etc.)
Complete business permits and documents
Free manpower assistance:

2 sets of uniform (6 polo shirts, 4 aprons, 2 visors, 2 hairnets)
Sourcing, hiring and orientation of crew
10 to 15 days training at training sites

Franchise orientation with comprehensive franchise manual kit
Grand opening assistance
Steps to Franchise Black Pearl
Should you wish to apply for a franchise, simply fill out the online application form and submit
the following online:
Letter of Intent
Lease/Award Notice from the lessor (if possible)
Vicinity Map of prospective site
Photograph of the prospective site

Frequently Asked Questions
Q: What are the franchisee's responsibility?
A: After being awarded with a franchise, a franchisee is responsible for the overall management of his or her business. This includes but is not limited to the management of the overall operations, manpower and control of inventory.
The franchisee is also bound by the Franchise Agreement to uphold all the provisions within the contract to promote and protect the FRUITAS brand.
Q: What is the required lot size or floor area?
A: The floor area for a store is ideally 4 to 6 square meters only.
Q: Do you provide the prospective location?
A: The prospective franchisees should provide their target location. Our team will assist in evaluating the site upon confirmation of the franchise package.
Q: What are the qualifications of an FHI franchisee?
A: An FHI franchisee possesses strong entrepreneurial and leadership skills. He/she must be financially capable to fund the investment and willing to be hands-on with the operations side of the business.
Contact Information
Office Address:
60 Cordillera St. corner E. Rodriguez Sr. Ave., Brgy. Doña Josefa, Quezon City Philippines
Telephone number(s):
+632 330 2889
+63 939 101 0101 (Luzon)
+63 947 101 0101 (Visayas / Mindanao)
Email address: franchising@fruitasgroup.com
Website: www.fruitasholdings.com
Facebook page: https://www.facebook.com/BlackPearlShakes/
Twitter: https://twitter.com/fruitasshakes
The Good in Franchising Black Pearl
Backed by a company known for distributing and marketing drink products
Reputable business with known profitability
The Bad in Franchising Black Pearl
Franchise fee might be steep for some investors
Franchising might relinquish some authority for management