It is the truth that many Filipinos long for the best deals out there, from ukay ukays to eating out, many people are unable to afford luxuries to buy proper clothing or food. Which is why Buy 1 Take 1 burger franchises are popular because of their affordability, while retaining the tastiness of a burger.
Making burgers is very easy to do for most people, making a franchise out of it is an entirely different story altogether. If you want to invest in a business such as a Buy 1 Take 1 Burger business, why not invest in a franchise?
Franchises offer sustainable business models with the proper orientation and training for franchisees and their staff.
If you are interested in franchising, take a look at the top 4 Buy 1 Take 1 burger franchises in the Philippines!
Heaven's Hamburger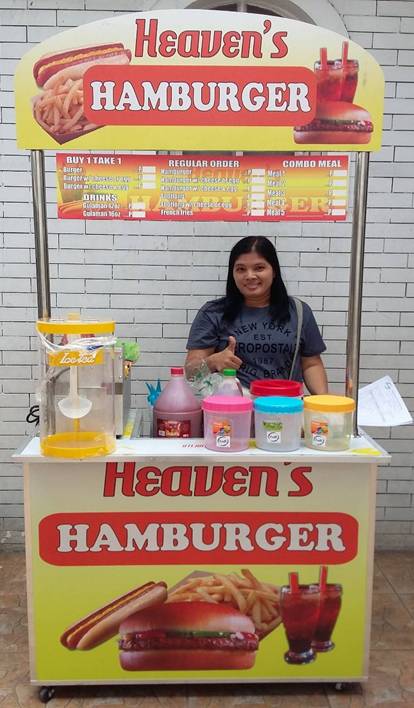 Starting out, Heaven's Hamburger provides the best deal among the rest as they provide the fairest price combined with the training necessary to start operations.
The franchise costs Php 99,000 and includes:
The use of "Heaven's Hamburger" trade name
A mini high-end food cart (measures 7 ft x 5ft x2.5 ft)
Complete set of uniform of one service crew (includes shirt, visor and hair net)
Starting products worth P3,000.00
Business and product orientation
Franchise seminar
Hands-on training for you and your crew
Concept manual
After-sales support
Equipment for Heaven's Hamburger operation
A heavy-duty griller and fryer
Acrylic juice container and ladle
Sauce dispenser
Tong and spatula
If you are wondering if there are other fees or hidden charges, fret not! You don't have to pay any monthly sale quotas, royalty fees, renewal fees, and hidden charges. You are in control of the sales and profits you receive from the franchise.
If you are interested in investing in this franchise, we have the contact information provided below:
Office Address
FaB Suffrage Inc / Fab Suffrage Food Services
17-A G/F St. Martin Bldg. Westpoint St. Cubao, Quezon City 1009
Landmarks: LRT Aurora Cubao Station in front of Gateway. Chowking corner WestPoint Street. After St. Gabriel and Dehadista Bar.
Facebook page: Fab Suffrage Inc.
Website: http://www.starfrappe.com  http://www.fab.ph
Email address: ifabfranchise@gmail.com
Telephone number: 02 219 5869
Mobile number: 0917 125 4451 | 0939 916 3425
For Free Consultation, Pre-Orientation preview, viewing of the show room, free product tasting and inquiries just set an appointment with Mr. Edison R. Gomez from Monday to Saturday from 10:00am to 6:00pm.
You can set an appointment with Mr. Edison R. Gomez from 10:00 AM to 6:00 PM from Monday to Saturday to avail for the free consultation, pre-orientation preview, show room viewing, free product tasting, and just inquiries in general.
GYOB Burger Buy One Take One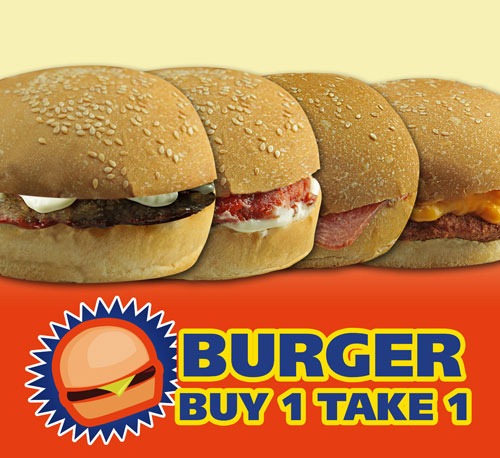 Founded by Grow Your Own Business (GYOB) corporation, the business franchise combines burgers and sandwiches at affordable prices. From cheeseburgers to the longgaburger, the menu is very unique and differentiated for customers to choose from.
At a starting cost of Php 69,888, you can find out more about what is included in the franchise by contacting them with the information below.
Office Address: GYOB Corporation, Unit 2402-C 24th Floor, West Tower, Philippine Stock Exchange Center, Exchange Road, Ortigas Center, Pasig City, Philippines.
Website: gyob.com.ph
Email address: customersupport@gyob.com.ph
Telephone numbers: 02 409 8943,02 470 7367, 0923 703 0876, 0908 863 5565
Burgeroo
Burgeroo is owned by Filtrepreneur Franchise, Inc., whose been in the business since 2006. The menu includes a variety of burgers and sandwiches, with an affordable but tasty experience for customers. You can be rest assured that Filtrepreneur is experienced in this line of business by their other food cart franchises.
The franchise lasts for 3 years, and costs Php 58,000, and includes:
Food Cart
Utensils (1 set)
400 pesos worth of initial inventory
1 unit of Teppanyaki grill
Seminar for the franchisee
Free Crew Training
Uniform of the crew (1 set)
E-loading Dealership
The best part is that there are no hidden payments or fees required to be paid before or after. You can own all the profits without taking a cut of it.
If you want to know more about the franchise, you can inquire by calling JP Dagos at 0946 072 2358 / 0906 969 0572.
Burger Factory
Burger Factory is owned by JC Franchising Inc. Burger Factory always provides promos, particularly buy one take one promos of their ham sandwiches, hotdog sandwiches, longgaburgers, and even rice meals such as burger steak with rice. They also sell drinks such as gulaman and ice tea to offer refreshments for customers who need a drink!
The franchise costs Php 78,888 and the package includes:
Trade name and logo use
Business system
Opening assistance
Notarized franchise contract
Monitoring officer assistance
Marketing collaterals (banner and menu tarpaulin, and banner stand)
Operations manual
Heavy duty equipment and utensils
Uniforms of the crew (6 set)
Comprehensive personnel training
4 day on-site crew training
Free food tasting product worth P1,000
Interested in franchising? You can contact JC Franchising Inc. by inquiring with the following details:
Office Address: 1196 Batangas St., San Isidro, Makati City, Philippines
Website page: www.jcfranchisinginc.com
Email address: customersupport@jcfranchisinginc.com
Telephone numbers: 02 889 4773, 02 889 4774,  02 889 4775,  028 89 4776
Mobile numbers: 0917 852 3726 or 0917 8JC FRAN