Since the descent of the dim sum products in the country, it never failed to attract Filipino's to eat and savor the taste of the simple yet delicious dish. Today, small food cart businesses, fast food chains, and large restaurants also serve dim sum on their menu, which showcases the love Filipinos have on the food.
Paotsin is one of the longest family business, distributing authentic Asian cuisine in the Philippines, and below discusses the company's product line and the possibility of franchising opportunities with them.
About Paotsin
Since it's establishment in 1995, Paotsin continuously serves authentic Asian cuisine, providing food quality deserving of their title as the pioneers of serving fried dumplings in the Philippine market, along with that title is the company's part of spearheading the trend of selling Hainese rice-one of their staple and currently flagship product.
Paotsin pride itself as an F&B company that may be imitated by will never be duplicated.
Product Line
Dumpling – Pork Dumpling, Scallop Dumpling
Wanton – Shrimp, Crab, Squid, Beef, Scallop Wanton
Asian Chicken – with Hainanese rice, Lemak rice, or Laksa soup
Laksa – Dumplings, Crackling Pork, Nanking Beef, Crispy Pok Chop in Laksa
Potstickers (guotie)
Siomai
Shark's Fin
Paotsin's Availability for Franchising?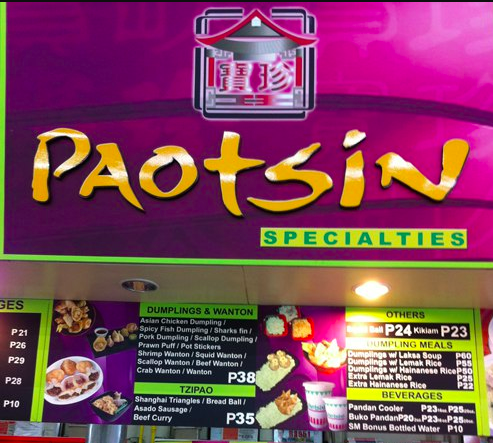 Since the beginning of its establishment, Paotsin had been operating as a closed-family business, personally operating all of its branches nationwide. News of franchising opportunities with Paotsin is not yet to be published by the owners.
What Paotsin looks for an individual?
Paotsin strives to work together with people who possess qualities align together with the company's virtue to success and growth.
Result Oriented
Loyal
Competent
Hardworking
Strong Work Ethics
Contact Information
Head Office
158 P. Sevilla st. bet 6th & 7th Ave, Grace Park Caloocan City
Advantages of Business Concepts like Paotsin
While the company is not yet open for franchising opportunities, those who are greatly interested in its business concept may rely on watching what made the company thrive in the Philippine market for over two decades and still continuously growing.
Paotsin is the leader of pioneering two types of food on the Philippine market, which is the fried dumpling and Haianese rice. Their mindset of introducing food put Paotsin as a formidable brand name in Philippine's Asian cuisine manufacturing business.
While sacrificing quality for the sake of quantity is not recommended course of action, finding the right products which can yield high profits while delivering quality output to the customer is the key on being able to welcome a big scope of customer's food budget.
Factors to Consider on Business Concepts like Paotsin
Paotsin doesn't have a relatively unique business concept. Today, there are numerous food cart business and restaurants serving the same type of products as Paotsin, which make it disadvantageous to start a business similar to Paotsin.
On the other hand, the number of distributors popping up in the market meant that demand is also high, and entrepreneurs are making use of it to provide a supply that will answer the demand.
If done rightly, by finding an ideal location, proper food handling, and the ability to attract customers by means of product and excellent customer service you may also take part on becoming the supplier of demand for Dimsum products like Paotsin and other household names manufacturing Asian cuisines in the Philippines.