The Philippines is home to a lot of coffee shops. You can see them everywhere you go especially in the city, where workaholics struggle through the morning which is why they need their quick fix. The coffee business thrives the most and franchising a coffee business is an ideal start in your investment because of its popularity and demand!
1. Star Frappe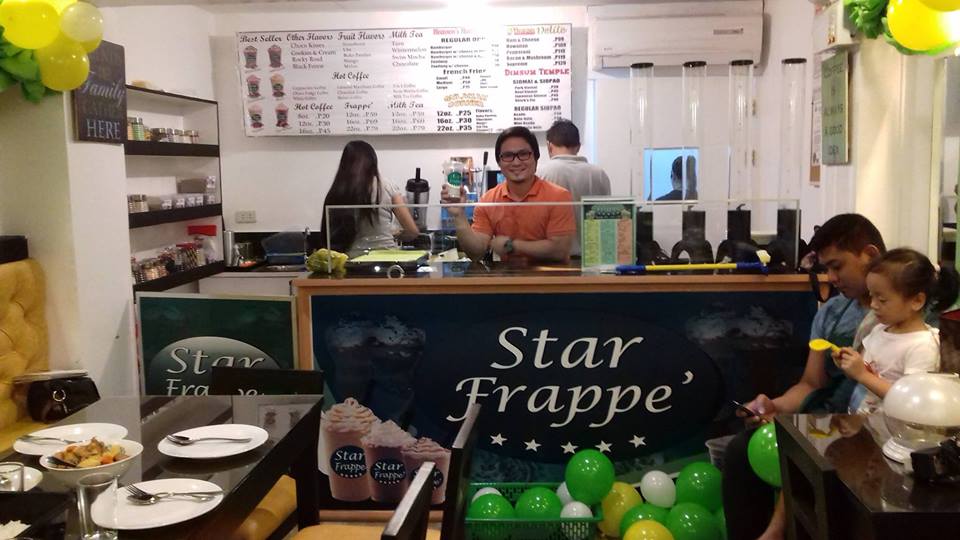 Star Frappe has proven to be successful for their simple business strategy: provide an affordable and tasty coffee! Maybe you prefer milk tea or even a shake? That's no problem with Star Frappe as they know that what you want is something that can fill your thirst. The franchise package for a coffee shop is reasonable and with their growing expansion, your investment won't go to waste!
Franchise Information
No royalty fee and renewal fee.
Return on Investment: 5 to 6 months
Franchise Inclusion:
Signage and menu
Complete heavy equipment
2 heavy duty blenders
Heavy duty ice crusher
Coffee maker
Sets of measuring cups
Milk tea shaker
2 frappe dispensers
Sets of canister box
Cooler icebox
2 sets of uniform
P10,000 worth of products
Business orientation & kit
After sales and marketing support
Contact Information
Address: #17A Ground flr. St. Martin Bldg. Westpoint St., Cubao, Quezon City, Philippines 1109
Website: http://fab.ph/star-frappe/
Phone Numbers: 0917-5323708 / 0998-5928617 / (02)6231856 – Look for Edison
2. Barako Frappe
Although you can say Barako Frappe is at its infancy stage since it was establishedi in 2014, you can't judge a book by its cover as it already has 150 brances and still growing! Javanillax Business Ventures Co.  dream of innovation is by combining a coffe shop into a kiosk and so far it has proven to be a success!
Franchise Information
There are no know franchise details as they are publicly disclosed. You will have to contact them in person to avail information about the franchise fee, investment costs, and other important details.
Contact Information
Address:  Unit 3A36 Grand Central Residences Tower 1 EDSA corner Sultan St.,
Brgy. Highway hills, Mandaluyong City, Philippines
Website: www.barakofrappe.com
Email: barakofrappe@yahoo.com
Mobile no.: 0977-827-9599, 0929-681-3006
Telephone no.:  (02)-211-2597
3. The Frap Bar
We all know how coffee is special to our hearts, that is why the Frap Bar is serious when it wants its customers to enjoy their own take of coffee while bonding with your friends and family. People enjoy their ice and coffe mix because of its affordablility with no sacrifice in quality. They are eager to franchise their business because of the business opportunity to grow and expand is high!
Franchise Information
Franchise type: Full-line coffee shop
Franchise fee: P450,000
Contract: 7 years
No royalty fee
Return on investment: depends on sales, cost of rental, labor and operation.
Other costs: security deposit and location of your shop
Franchise Inclusion:
(1) Roll-up Banner
(300) Flyers
(2) Jiggers
(1) Brewer
(2) Blenders
(2) Whipper
(1) Mini Ref
(1) Cooler
(3) UK Small
(3) UK Medium
(4) UK Tall
(1) Measuring cup 250mL
(2) Perforated spoon
(1) Jelly Spoon
(1) Measuring cup 1L
(4) Dispenser 12 oz.
(4) Dispenser 24 oz. white
(1) Dispenser 24 oz. yellow
(6) Store and pour
(4) Scooper Set
(1) Ice scooper
(1) POS Machine
Contact Information
Contact person: Gary M. Espino
Address: G/F Atlanta Centre, Greenhills, San Juan City
Website: www.thefrapbar.com
E-mail: gme920@yahoo.com
Facebook: www.facebook.com/thefrapbar
Telephone no.: (632) 410-9650 | (632) 412-9082
Fax no.: (632) 410-9650
4. Caffe La Tea
The mission of Caffe La Tea is to be the perfect spot for people to relax with their friends and family, as well as serving them with only the freshest ingredients for their meals and beverages that you will always come back for! Their assurance for the quality of their product means a lot as they can stand by the integrity of their business!
Franchise Information
Total Investment cost (inclusive of franchise fee, construction cost, equipments, etc.): P4M
Franchise fee: P650,000
Contract: 3 years (renewable)
Royalty fee: 5% monthly gross sales
Ingredients to be bought exclusively from Caffe La Tea
Return of investment: Average of 2 years
Franchise Inclusion:
Caffe La Tea trademarks
Location procurement assistance
Store design assistance
Human resources, legal, and finance consultation
On-going training and service monitoring
Graphic design for marketing
Staff recruitment and training
Opening team assistance
Operations manual
Research and Development
Contact Information

Facebook page: www.facebook.com/CaffeLaTea
Email: caffelatea@gmail.com
Mobile no.: +63. 998.960.0399
5. Bialetti Caffe Philippines
This café specializes on the technical side as they started out with importing coffee equipment, and later ventured into the coffee shop business. With each barista trained to operate state-of-the-art machinery, the result is a high-quality coffee! The technical know-how and their marketing strategies in their belt help them succeed in the coffee shop business, so if you are considering an expert in making fine coffee, then Bialetti Caffe is for you!
Franchise Information
Currently, the franchise details are disclosed so you must contact them by either email or phone!
Contact Information
Web: www.bialettiphilippines.com
Email: slcbialetti@yahoo.com
Telephone no.: (02) 211-6240
Mobile no.: 0917-808-1255, 0922-896-5581