Over the years, Filipinos have seen long queues towards Zagu stalls. The brand is a brainchild of
an enterprising woman with a degree in Food Science she obtained from the University of British Columbia in Vancouver, Canada in April 1999.
Zagu's first authorized franchise was awarded in October of 1999 in Manila, Philippines.  Since then, th brand has opened more than 200 stores located throughout the Philippines.
The Zagu Franchise Business Platform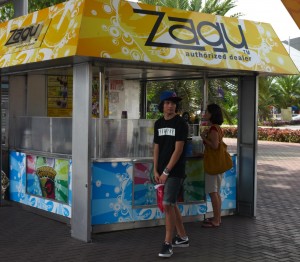 Zagu offers their unmistakable mixed shakes from flavoured powders, with tapioca pearls. Customers can choose from a wide array of flavors, which includes pearl milk tea, jamocha almond, café latte, hazelnut cappuccino, mocha, melon, watermelon, pineapple, strawberry, buko pandan, black forest, crème brulee, ube vanilla, chocolate, choco crumble, choco caramel, cookies and cream, halo-halo, natural dalandan, natural mango, and natural four season.
Aside from the mainstream pearls, they also have other additional add-ons like crystals, rice crispies, choco bits, corn kernels and red mongo beans.
Having a Zagu Dealership Package will have the most common inclusions a franchise business would offer, like marketing support through event participation, sponsorship and other marketing approach, standard uniforms, service crew training, brand assistance with site selection, customized operational system, among others.
Investing with Zagu will entail a franchisee shelling out a fee between P370,000 to P450,000.
For more information about franchising Zagu, you can check out this comprehensive article at iFranchise.ph.
An Alternative to Zagu Franchise?
If you would be looking for a good alternative business to Zagu, we feature one fledgling brand that would surely rival its established competitors.
Enter Star Frappe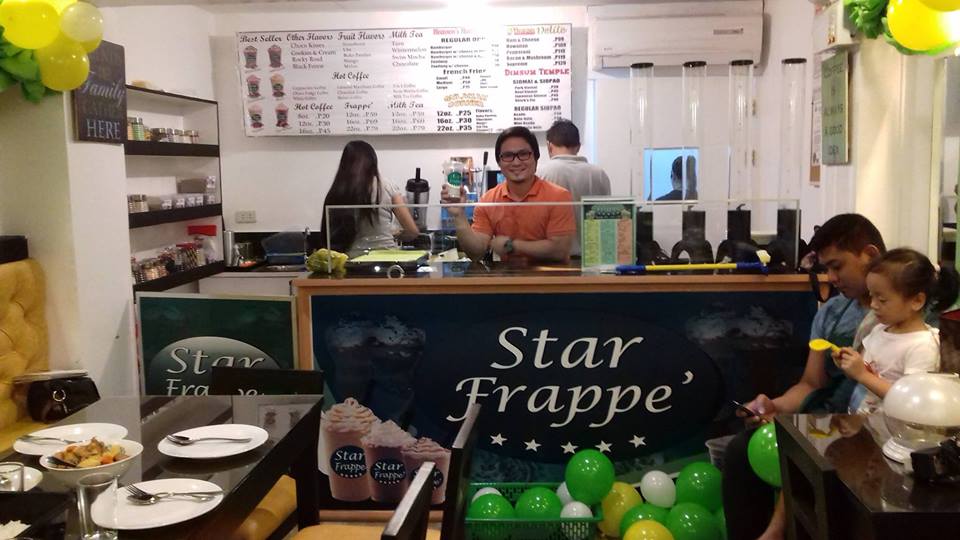 Fab Suffrage inc. offers its Star Frappe Snack Bar and Café brand. A franchise with the brand will lead you to sell a vast array of food products like siopao, siomai, rice meals, sisig, etc. plus coffee and coffee shakes. Also, Star Frappe also offers milk tea, making the brand's menu a good rival to that which Zagu has to offer.
Star Frappe has their stalls designed as café-styled one and features seats, a far throw from Zagu's stand. Also, they have food options such as pizzas, burgers and rice meals, along with the other beverages.
Star Frappe is open for franchise nationwide. They will open suggestions for store locations along with assistance in business registration, things that will be helpful for starting entrepreneurs. The company also offers activities such as free orientation and food tasting to those who will be interested to do business with them.
A Star Frappe franchise will throw in these other inclusions as well:
The use of trade name and proprietary marks
● Hands-on training for both franchisee and staffs
● Commercial signage, counter and lighted menu
● Marketing, operational and pre-opening assistance
● Continuous site visit and guidance
● All products in the menu
● 5 Concepts complete equipment for the operations
● 2 Cooler ice boxes
● 10 Service crew uniforms
● Chest freezer
● P30,000 worth of products
● 2 Tarpaulin banners
The best thing about Star Frappe' is they provide a low franchising cost than their competitors. A franchisee can avail of the brand for a low P300,000 compared to Zagu's higher fee. They also offer very flexible terms with the packages they offer.
Should you wish to know more about Star Frappe, you can visit them at #17A Ground flr. St. Martin Bldg. Westpoint St., Cubao, Quezon City, Philippines, 1109. You can call them at 0917-5323708,  0998-5928617 or (02)6231856.