Once a small country, the Philippines is now home to over 100 million Filipinos. No longer are people from provicincial areas, the new generation is born in Metro Manila. This transition from simple life to work your butt lifestyle has accustomed many office workers and other jobs that make them go to Metro Manila. While purchasing a car necessitates the need, it may not be an ideal investment for many, considering the large amount of traffic along the highways, which defeats the purpose of a fast-moving vehicle to own.
Enter the UV Express franchise and its many branches. You may have heard of the phrase "uwi na", but did you know that UV is play on word that refers to that? Did you also know that unlike other business franchises, UV Express is not owned by a company as many mistakenly think. Rather, it is a license to operate utility vehicles (UV) for the use of public transportation.
Just as common as you see a jeepney you would be able to spot a van with the logo of "UV Express" taped on its doors. Yes, UV express offers a diferent mode of transportation for long routes and everyday commuting, but at an affordable price. While you can hail a taxi that provides comfortability with a touch of privacy, UV express on the other hand is able to give you the best bang for your buck per kilometer. This advantage makes it one of the most use vehicles every day in the Philippines.
Terminals of UV express are situated at common loading and unloading zones such as Ayala malls, where the vans await passengers. Seeing that jobs are likely to increase, there is no doubt that the profit you are going to make will be steady if you invest with UV express.
Keep reading if you want to know more on how to start a franchise!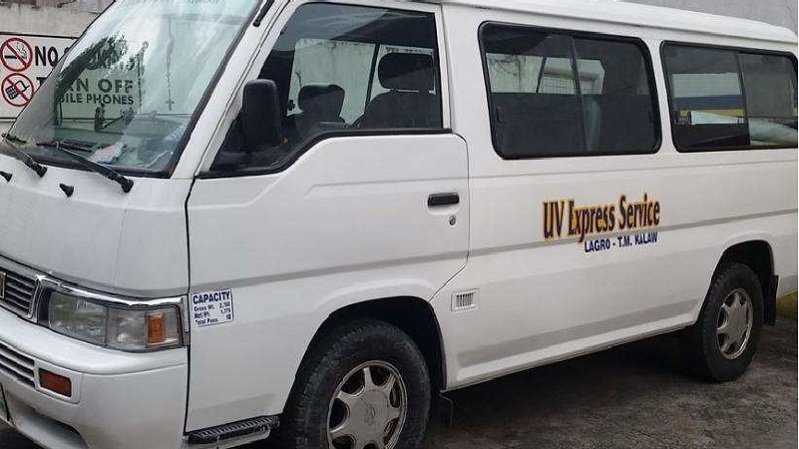 Brief Background of the UV Express Franchise
The movement of UV Express began during that 1990s, when Toyota Motor Company unveiled the third generation of its Tamaraw FX, which is primarily marketed to Filipinos. The design is the exact opposite of its US variant, with a smaller area for both passengers and the luggage. Many riders of the UV express would know that the space for luggage would end up being used as passenger seats.
The success of the Tamaraw instigated competitors Isuzu and Mitsubishi to create their own, and subsequent variations would let everyone call them "FX" as most are use for public transport.
This popularity was noticed by the LTFRB and was given proper guidelines to make use of as a business. Further improvements to older models were made but were replaced by newer generations such as the Toyota HiAce and Nissan Urvan to provide a much more comfortable experience.
Today, the franchise has seen over 120 services all over the country, with the LTFRB overseeing the operations.
UV Express Franchise Packages
As an owner of the UV Express franchise, there are no hidden fees that you need to pay in order to set up a franchise. However, you will need to pay 570 pesos for the processing an documentation fees.
You should be careful when dealing with fixers, as there are scammers that will ask you to pay a franchising fee, which does not exist. Consult with the LTFRB for your safe investment.
Steps to Franchise UV Express
Since there is no company that owns UV express as it is merely a license to operate, assistance may be given to you by the LTFRB to acquire one. For your convenience, LTFRB's contact details are provided below.
Contact Information
Office Address: National Capital Region 2nd Floor, McDouton Bldg., 768 EDSA cor. East Avenue, Diliman, Quezon City
Mobile number: Globe 0906 163 7034
Email address: complaint.ltfrb.gov.ph@gmail.com
Facebook page: /LTFRBCitizenEnforcer
Twitter page: @LTFRB
Officers / Office Departments
Hotline number: 1342
SMS hotline number: 0921 448 7777
Office of the Chairman: 426-2519 / 426-2505
Office of the Executive Director: 925-7194
Admin Division: 426-2501
Financial and Management Division: 426-2496
Technical Division: 426-2526
Information Systems Management Division: 426-2491 / 426-2513
Legal Division: 426-2530
Public Assistance & Complaint Desk: 426-2515 / 426-25-34
Refer to the official LTFRB website, for a list of other LTFRB offices near your region.
The Good in Franchising UV Express
Governing body assistance (LTFRB) for the franchisee
Expenses are not as many aside from the documentation fees and vehicle purchase
You can get your return on investment in two years or less
UV express offers a reliable model for generating profits
Royalty fees are non-existant
The Bad in Franchising UV Express
Likelihood to be scammed by fixers that trick you into being guided
The purchase of vehicles is up to the franchisee, and a fee is placed upon the third vehicle
The high amount of investment may not be for everyone, especially those with a budget