Filipinos are already used to eating Chinese- influenced food, even treating them as a snack food for those intermittent hunger pangs or simple cravings. And aside from the usual mami and siopao, one chinese inspired food that have become a Filipino favorite snack food is siomai
The small yet tasty treat has become one go-to food for Filipinos. And siomai stalls has taken the country by storm in recent times whether they be on the streets or inside malls.
Siomai King Franchise: The King of Dimsum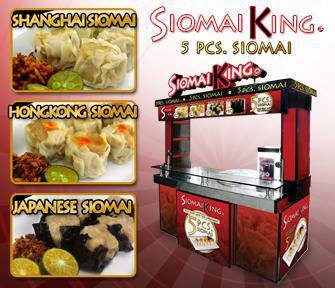 Among these dimsum brands that have captured Filipino tastes is Siomai King, a franchise package offered by JC Franchising Inc. The company was started back in 2006 by two entrepreneurs.
They first conceptualized the name "Hari ng Siomai" (King of Siomai), because of their unique serving of not four, but five pieces of dumplings per order, at prices competing with other brands. This alome made them different from other brands.
Siomai King Carry Shanghai, and Hongkong siomai, as well as their own version of Japanese siomai.
If one is interested to become a franchisee of Siomai King, there is only one package available for them, which is the Gold Package. This amounts to P168,888.00, and includes, among others that the business cart needs in order to operate, a refundable cash bond worth P40,000.
Also, franchisee should have at least a minimum monthly net income of P50,000.00 to be considered and be qualified as Siomai King Franchisee.
While having affordable and quality products are the advantages of Siomai King, it only offers a limited variety of food. And besides the quite-hefty amount for a franchise fee, franchisees must still pass the qualification. Others than that, Siomai King's franchise package does not include operation expenses.
Website: https://www.facebook.com/siomaikingfranchising/
Challenging The King: Dimsum Temple Franchise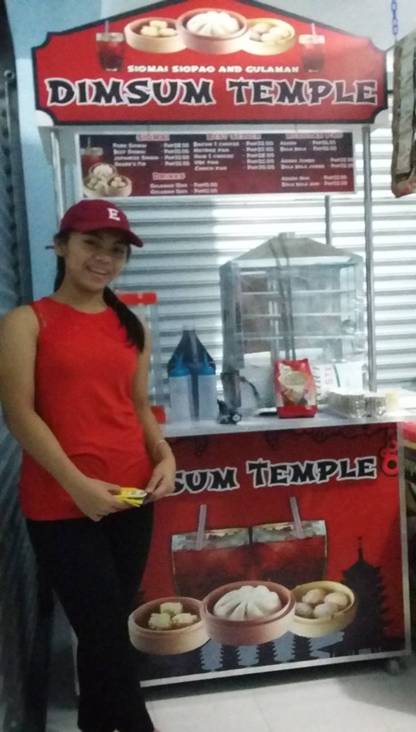 Fanchisees need not fret though, if they still wish to enter the dimsum business. Fab Suffrage Inc. offers Dimsum Temple as their answer to the dimsum competition. The company tout the brand as one of their most sell-able food cart concept.
The company says franchisees choose Dimsum Temple's Siomai and Siopao products because of their product's unique taste and variety.  Like the former, Dimsum Temple offers a variety of dumplings with guaranteed unique taste. But wht sets Dimsum Temple apart from the competition is that they have a wider variety of dumplings in their steamer. Among their products are pork siomai, beef siomai , japanese siomai , chicken siomai , spring rolls, sharksfin siomai, and dumplings.
If these are not enough, Dimsum Temple also have a wide array of siopao in their steamers. These range from Asado Jumbo, Bola-Bola siopao, Bacon & Cheese pao, Hotdog pao , and Ham & Cheese pao. Also, these come in different sizes for added variety.
Franchisees need not worry about brand recognition, as Dimsum Temple branches can be found around different Metro Manila locations.
Franchisees interested to have a Dimsum Temple franchise can get the Food Cart Package at P59,000, definitely much lower than the former. The following are included in the package:
Semi High End Cart
Complete Set of Heavy Duty Equipment
Utensils and Wares
Initial Inventory costs P3,000
Crew Uniform (T-shirt, apron, hairnet)
Video Training & Operations Manual
Costing and Pricing Manual
And as if an add-on value, FaB Suffrage, Inc will also recommend locations, and will be ready to assist with business registration. What's more, FaB Suffrage, Inc 's offering has no royalty fee, no renewal fee, no hidden charges, and no sales quota. They also promise a return of investment in five to six months.
Interestingly too, Dimsum Temple does not seem to look like they will be checking on a franchisee's monthly income.
To learn more about the brand, interested parties can visit FaB Suffrage's home office at Ground flr. St. Martin Bldg. Westpoint St., Cubao, Quezon City, Philippines 1109. Contact Mr. Edison Gomez at 09985928617 / 09175323708.