Filipinos started welcoming more the world of flavors, cuisines, and dishes offered from around the world which is continuously being introduced in the market. From American to Chinese, Japanese and even Mediterranean snacks, Philippine's food industry is exceptionally growing, making it ideal to start franchising a food cart business that can stir Pinoy's growing fondness to different food.
Shawarma Shack is the home of Buy 1 Take 1 Shawarma, in the country, established with the goal of bringing the best value for money Mediterranean snack available.
The company assures its customers affordable and quality products, while their franchisees are supported to earn profit and fast returns.
About Shawarma Shack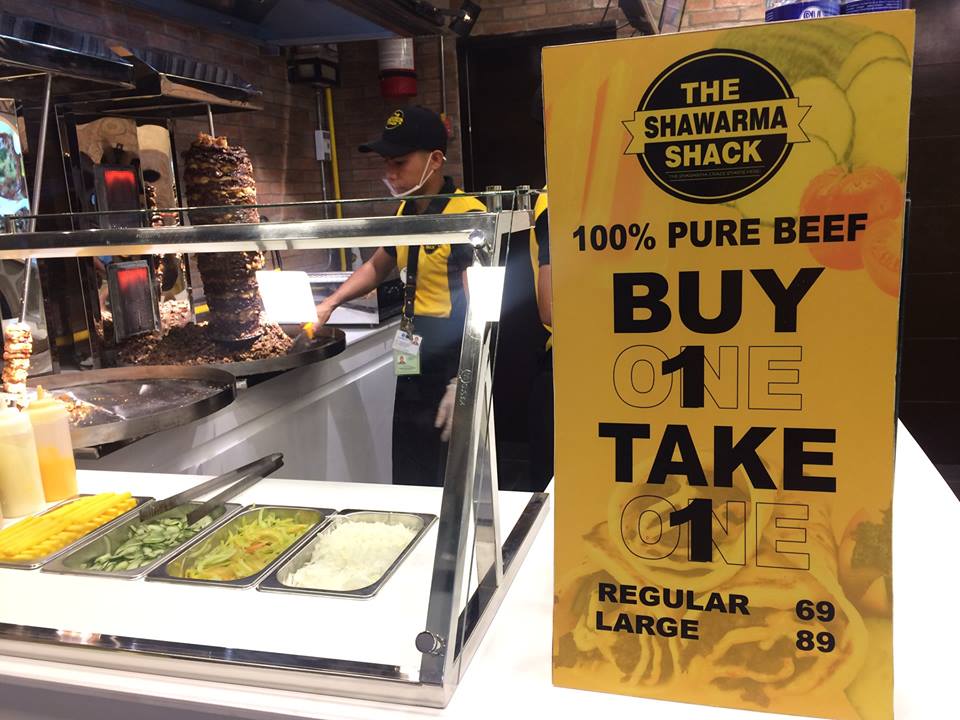 Shawarma Shack offers a value for money offer to their customers, providing high-quality and delicious Shawarma for an affordable price tag. The company's determination and perseverance to become the Top 5 Shawarma Franchise in the Philippines, also ensures aspiring applicants that they are will grow together with a company who also pushes themselves to become the best in the field.
Franchise Packages of the Shawarma Shack
MALL CARTS

Franchise Fee: 300,000
Total Investment Cost: 850,000 (inclusive of Franchise Fee)

NON-MALL CARTS

Franchise Fee: 300,000
Total Investment Cost: 988k – 1.5M (inclusive of Franchise Fee)

IN-LINE / FULL STORE

Franchise Fee: 500,000
Total Investment Cost: 35M (inclusive of Franchise Fee)
Product Line
Shawarma Shack's product line of the shawarma (chicken or beef), pita bread, cucumber, tomatoes, onions and three types of sauces available for customers to choose from.
Buy 1 Take 1 Products
Chicken Shawarma Wrap (Comes in regular and large)
Beef Shawarma Wrap (Comes in regular and large)
Solo Servings
Chicken Shawarma Rice
Beef Shawarma Rice
Franchising Process of Shawarma Shack
The Shawarma Shack franchise is currently entertaining franchise applicants and is reachable through contacting them either by their official Facebook account or their partnered website U-Franchise.
The usual procedure includes providing the contact details of the interested applicant and if they are interested to attend a meeting conducted by Shawarma Shack, where all details of the franchise process and packages are discussed.
If the franchisee's location is not available for the set date of appointment for a seminar, the applicant is encouraged to directly contact the company's contact number to acquire more information.
Contact Details
Facebook: www.facebook.com/shawarmashackph/
U-Franchise Contact Details
Facebook: www.facebook.com/UFranchiseSales/
Website: www.ufranchiseasia.com
Tel No: (+632) 634.05.86 | (+632) 634.37.17
Mobile: (+63920) 983.02.47 | (+63917) 881.69.99
Email: franchising@ufranchiseasia.com
Address: Unit 2807 Jollibee Plaza, F. Ortigas, Jr. Road, Ortigas Center, Pasig City, Philippines
Advantages of Shawarma Shack Franchise
Use of tradename, logo and name
Pre-opening and start-up assistance
Site evaluation assistance
Franchise operations manual
Training on business operations, management, customer service, and local store marketing
Grand opening and marketing support
Continuing business guidance
Disadvantages of Shawarma Shack Franchise
As Shawarma is a growing business trend today, competition among other business with a similar concept is one of the greatest disadvantages of franchising Shawarma Shack
Food management is crucial as the products are easy to spoil
As Shawarma businesses continuously grow, finding a spot which is not overly saturated with the same concept can be hard.