It is not always all imported brands that permeate the local coffee beverage market in the Philippines. There are brands you can look for, and maybe grab as a franchise for your enterprising career.
One such brand is Red Buck's Coffee Shakes. The brand established a new and unique taste that promises a worthy experience for every customer. To date, the coffee shop brand has thirty store outlets placed from Santiago, Isabela up north, to Tacloban in the south parts of the country.
What To Expect With Red Bucks Franchise
Red Buck's is currently enjoying a good franchise business model that gives opportunities for aspiring entrepreneur to have their own coffee store. They offer a variety of shop options, ranging from small carts, food kiosks, up to mall stalls and outlets.
The downside is that with the choices of stalls, comes the price difference that goes with each. They have a common administration fee of P100,000. Capital requirements range from Php300,000.00 for small carts, up to Php450,000.00 for big kiosks. The only good side is that they waivered the franchise fee, but only for the small carts and kiosks. Franchise fees can go as high as P250,000 for store shops.
Any Alternative to Redbucks Franchise?
Red Bucks might have a good business plan to entice you. But then again there is another brand that may sound like how Red Bucks would, but is surely not heavy on the budget.
Star Frappe Is A Good Alternative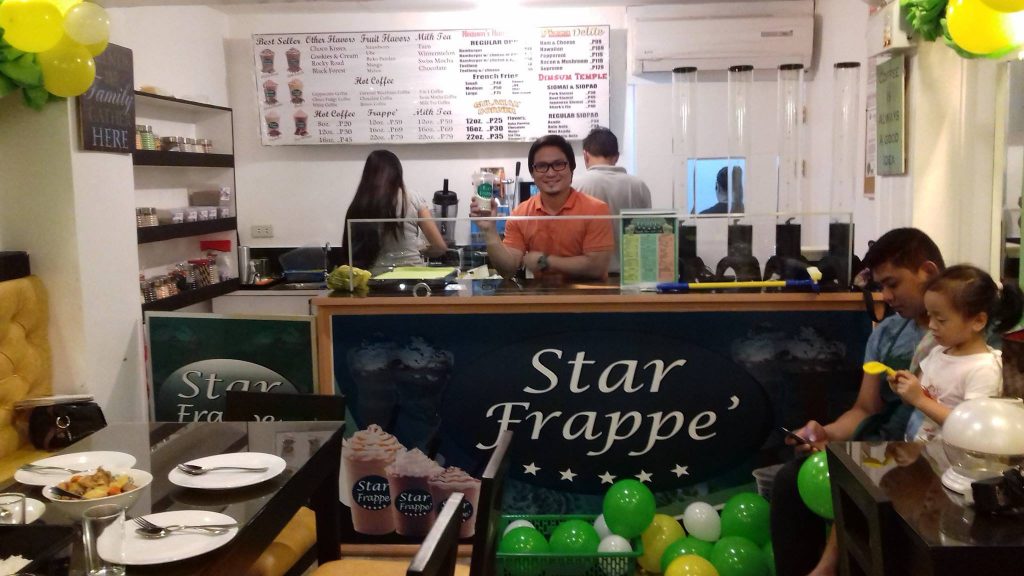 Fab Suffrage Inc. owns Star Frappe Snack Bar and Café brand. This brand also offers coffee and coffee shakes, plus milk tea, to give Red Buck's a good run for the money. To complement the coffee beverage experience, Star Frappe customers can also avail of a wide variety of food options like siopao, siomai, rice meals, sisig, pizzas, burgers and rice meals, along with the other beverages.
More so, Star Frappe has café-styled stalls, with seats and tables for the convenience of customers.
Fab Suffrage Inc. is offering Star Frappe for franchise nationwide. They are willing to give suggestions for store locations along with assistance in business registration, which will be helpful for franchisees. The company also offers activities such as free orientation and food tasting to entrepreneurs who will be interested in having a franchise with the brand.
To give a glimpse of what a Star Frappe franchise will offer, here is a list of their inclusions:
The use of trade name and proprietary marks
● Hands-on training for both franchisee and staffs
● Commercial signage, counter and lighted menu
● Marketing, operational and pre-opening assistance
● Continuous site visit and guidance
● All products in the menu
● 5 Concepts complete equipment for the operations
● 2 Cooler ice boxes
● 10 Service crew uniforms
● Chest freezer
● P30,000 worth of products
● 2 Tarpaulin banners
The best thing about Star Frappe' is they provide a relatively low franchising cost compared to their competitors. A franchisee can avail of the brand for a low P300,000, a good competitive price compared to Red Bucks. Franchisees can also ask and avail of Star Frappe's flexible terms with the packages that they offer.
Star Frappe is open for any inquiries. Franchisees can personally visit them at #17A Ground flr. St. Martin Bldg. Westpoint St., Cubao, Quezon City, Philippines, 1109. You can call them at 0917-5323708,  0998-5928617 or (02)6231856.