Washing machines have always been a blessing for those who can afford it. In the Philippines, you can find that washing by hand is still popular since most Filipinos can't really buy their own washing machine. At expensive prices Php 60,000 and above, washing machines and dryers are an investment only for the rich and frugal.
With a busy work culture, most of us are unable to do even the smallest of chores due to time restraints. Modern solutions for this have led to the establishment of laundromats. While they are accessible, they sometimes have the problem of losing your clothes with no guarantee that all of them are intact.
Which is why self-service laundromats is arguably better. They are quick, cheap, and easier to manage compared to someone else doing your own laundry. Not only that, but you are responsible for your own washing and drying, ensuring that most of your clothes are still there. The speed of washing and drying combined can only take 1 hour of your time, which is handy when you need a fresh set of clean clothers to wear the next day.
Wouldn't you want to invest in a popular and always on demand business franchise? Quicklean is an opportunity for you! Keep reading to know more about Quicklean!
Brief Background of the Quicklean Franchise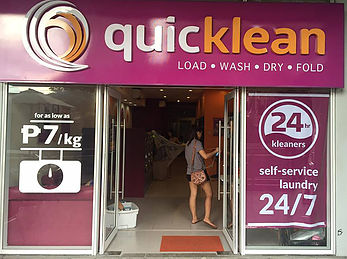 Alan Escalona established Quicklean and has created more than 50 branches nationwide. The branches are strategically located in residential areas, to focus on the target market. In 2 to 3 years, a franchise owner can get their return of investment, generating gross revenues of Php 300,000 monthly with a staff of two.
Quicklean, the first and largest self-service laundromat chain in the Philippines, elevates your usual chore to a fun and worthwhile laundry experience. They allow customers to personalize their laundry experience from water temperature to the choice of detergents used.
Seeing the importance of taking care of clothes, Quicklean provides the best of washing machines and dryers. High quality equipment means that you are able to wash your clothes with great wash at an affordable price.
Quicklean uses Speed Queen for their self-service laundry. As they are made in the U.S., they offer laundry equipment, most notably the commercial washers Quicklean uses and they have the reputation for the leading brand for all commercial washers for 100 years.
As a self-service laundromat, Quicklean aims to be affordable, quick, and efficient in making the washing process a satisfying experience for their customers. At 70 pesos per washing (up to eight kilos) and 80 pesos per dryer, the whole process only takes about 21 minutes for washing and drying to take place.
They have been operating since 2012, and their goal is to open 15 stores a year, with demand always existing and increasing, especially for working students everywehere. As of right now, 8 of the branches have been operating as a 24-hour business.
If you are looking for a high return of investment, and consistent profits, look no further than Quicklean.
Quicklean Franchise Packages
Investment fee (minimum): Php 3,000,000
Franchise term: 6 years
Renewal fee: Php 168,000
Royalty Fee: 5% of gross sales per month
Miscellaneous dues: 1% of gross sales per month
Franchise Inclusions:
4 Washers
4 Dryers
Grand opening support
Store design
Layout
Branded staff uniform and apparel
Brochure
Posters
Flyers
Support for digital marketing
Steps to Franchise Quicklean
Step 1. Business Presentation | FAF | LOI | Franchise Fee
Step 2. Site Survey | CAD (2D & 3D) | Feasibility Study
Step 3. Full Payment For Equipment |Blueprint | Down payment of fit outs (50%)
Step 4. Construction of Branch | Staff Training | Settling of Accounts | Acquiring the Necessary Permits to Operate (Local Government Units) | Certification to Open and Operate
Contact Information
Facebook page: @QuickleanPH
Email address: info@quicklean.com.ph
Mobile number: 0917 523 0115
Telephone number: 989 0304
The Good in Franchising Quicklean
Visual branding – Quicklean provides a strong brand as the branches have consistent design. Each store has a clean feel that differentiates itself to other laundromats.
Durable equipment – Quicklean uses Speed Queen washing machines. They are popular for business for their toughness for commercial use. This means machine breakdowns are few and between and you can operate your business more smoothly.
Supportive sales team – Quicklean provides a team of sales experts that guide entrepreneurs. They are with you from orientation about the business to the actual construction of the business.
Always on demand – Laundry is popular even during recessions
The Bad in Franchising Quicklean
Royalty fees – The owner has a cut of the profits of the business.
Renewal fee – If you plan to continue the business, you will have to pay a fee every time.
Fixed machine choice – If you find that their washing machine is too expensive, you might not have a choice.