Everyone wants money, no doubt. But it is hard for people to start their own business when the capital to do so is extremely high. Only a few people are able to create a new venture of their own. That privilege is sadly rare for anyone who lives in the Philippines.
Want to an income that doesn't involve starting new and have a recognizable brand to boot? Why not try out these business ideas that don't cost over P200,000! With many years of experience and a recognized brand, all you will have to do is to manage the operations. Not only that, but you will be given proper training as well to ensure that everything goes smoothly.
Sounds good? Keep reading to know more about these business ideas!
Star Frappe: Milk Shakes and Frappe Food Cart Franchise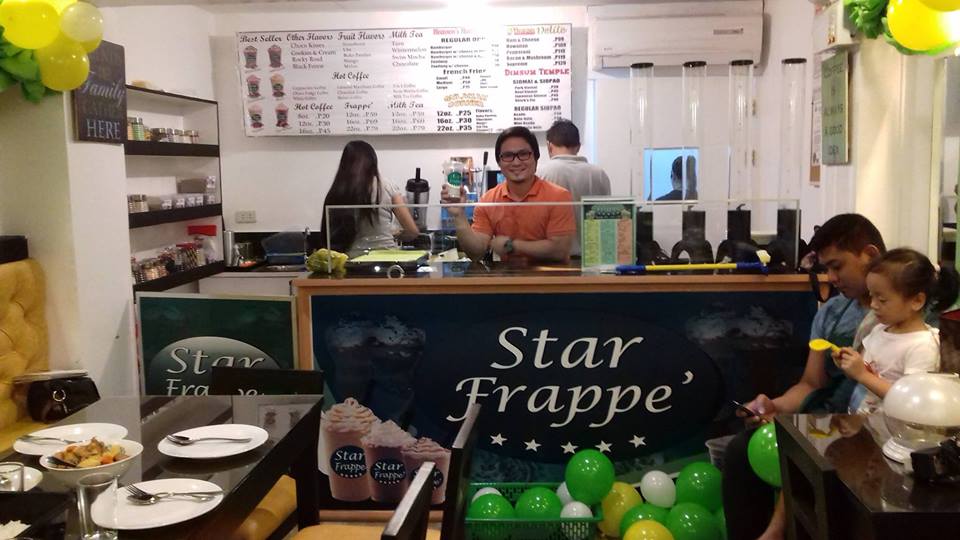 What better way to quench your thirst and beat the heat of this tropical climate than by drinking a cool drink! Star Frappe offers such menu for fans of cold beverages. Fancy caffeine? They have them.  Prefer milk shakes? Star Frappe also has milk tea!
For a franchise fee of Php 99,000, a Star Frappe franchise is within your reach and includes the following:
Right to use trade name and logo
Mini high end food cart (7 ft. x 3 ft. x 2.5 ft.)
Machinery and equipment ( Heavy duty blender, electric ice crusher, measuring cups, pitcher and dispenser)
Staff uniform (1 pc.)
Initial inventory worth Php 2,500
Seminar for franchisees
Hands-on training for franchisee and staff
Operations manual
After sales support
Star Frappe encourages investors and entrepreneurs to do business with them to expand through franchising. If you fancy their vision, their contact information is just below.
Office Address:
#17A Ground flr. St. Martin Bldg. Westpoint St., Cubao, Quezon City, Philippines 1109
Website: www.foodcartsfranchise.com
Email address: franchiseinquiry101@gmail.com
Facebook page: www.facebook.com/fabsuffrageinc/ | https://www.facebook.com/StarFrappe/
Contact person: Mr. Edison Gomez
Phone number(s): 0917 125 4451 / 0939 916 3425 / 02 219 5869
Schedule: Monday – Saturday; 10:00AM – 6:00PM
Kowloon House Franchise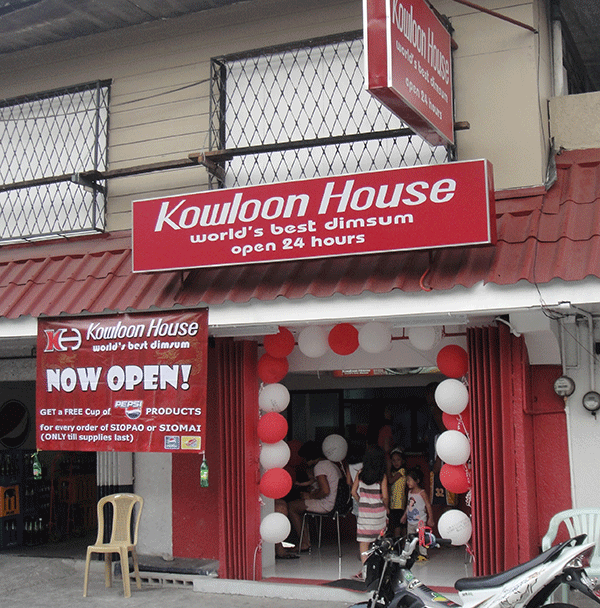 Since 1964, Kowloon House has been providing authentic Cantonese cuisine to customers, particularly to the Filipino and Chinese alike. Good Cantonese food is hard to come by, especially given its usual price.
With motivations such as having the highest quality in terms of taste and service, Kowloon House is able to differentiate itself to other competitors. Aside from dining experiences, they cater to any occasions for appropriate situations, from birthdays to weddings, from baptisms to conferences, Kowloon House is your guy.
Kowloon House opened its doors to entrepreneurs to provide an opportunity for anyone that wants to support such franchise but have no means to afford the expensive franchise fees of other businesses.
Franchise fee – Php 100,000
Security deposit (refundable) – Php 250,00
Total – Php 350,000
The franchise package includes the following:
Right to use trade name
Marketing collaterals
Franchise cart
Assistance in grand opening
Initial inventory
Basic equipment and machines
Uniforms for staff
Rest assured, all of the supplies, training, and support will be provided by the company.
If you are interested, you can contact them through the following:
Address: #16 West Ave. Brgy., West Triangle, Quezon City, Philippines
Telephone number: 372 36 85 loc. 11 (Look For Marie Gonzales / Dominic Bulatao)
Facebook page: www.facebook.com/KowloonHouse
E-mail address: Kowloon.house@gmail.com
Sgt. Sisig Franchise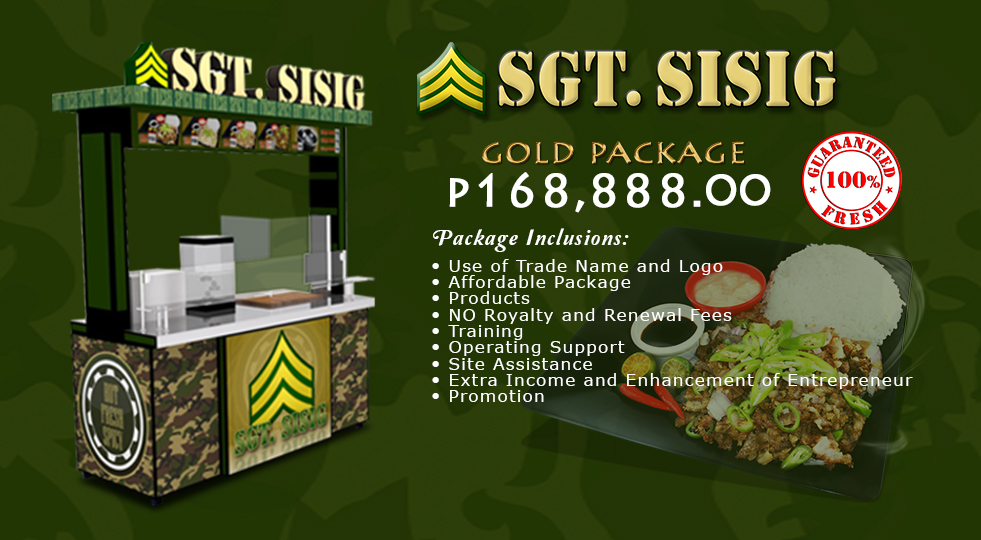 JC Franchising Inc., as the name suggests, owns multiple franchises that provide different products. One such brand is Sgt. Sisig, with their specialty being – you guessed it – sisig! Their menu offers affordable meals without sacrificing the taste and spice that a sisig experience provides.
With pork, chicken, and even tuna in their menu, you can never go wrong with experimenting with all the flavors with your friends. They target budget friendly pockets that want an affordable meal.
For only Php 148,888, you get a Sgt. Sisig franchise, which includes:
Use of trade name and logo
11 cu. Ft. Freezer
Heavy duty equipment and utensils
6 pcs. of crew uniforms
Food tasting products worth Php 1,000
Monitoring officer assistance
On-location crew training for 4 days
Operations manual
Opening assistance
Marketing collaterals (menu tarpaulin, banner and stand)
As you can see, you get a reputable and recognized brand with support to provide you assistance whenever there may be any trouble in your part. Given the set franchise fee, you can be rest assured that the quality of the service and reputation will benefit you in the long run and provide a steady flow of income.
Sound like something you want to try? Don't dare hesitate! Their contact information is provided below.
Office address: 1196 Batangas St., San Isidro, Makati City, Philippines
Website: www.jcfranchisinginc.com
Email address: customersupport@jcfranchisinginc.com
Telephone numberL 02 889 4773 / 02 889 4774 / 02 889 4775 / 02 889 4776