While many loves and craves tacos as a great snack for any occasion, there's a surprisingly low amount of stalls and franchises dedicated to distributing the delicious Mexican food Filipinos come to love. However, don't feel dejected yet because while there are few of them, those selected Nachos franchises deliver the quality and affordability both in terms of their product and their franchise packages.Therefore, if you are looking to be the next Mexican snack stall in your area, then here are Nachos franchises available in the Philippines.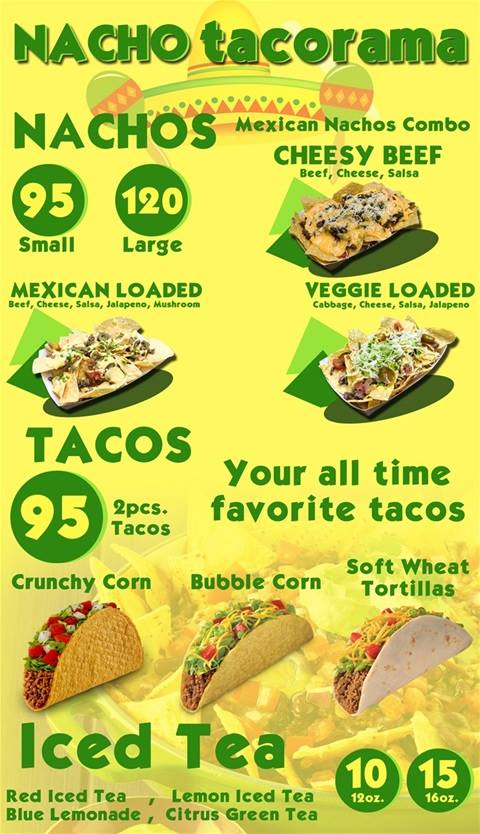 Nacho Tacorama is a franchise business under FaB Suffrage Inc. One of the leading providers numerous types of business franchise set-ups in the Philippines. Promoting a proven and tested business system, backed with an experienced management team, ensures that franchisees receive a great investment business package, and their franchisee's customers the quality products they deserve. 
Starting Fee: 99,000
Kiosk Space Requirement: H 7ft. W 5ft. SW 2.5ft 
Inclusions: 
Use Trade Name & Logo
Equipment
Heavy duty glass display
2 slow cooker
canister and sauce dispenser
Food tong and spatula
2 Sets of UNIFORM
Apron, Visor, Hairnet & T-shirt
Pre-opening assistance
Initial products worth 3,000
Business Orientation and Kit
Franchise Seminar
Crew Hands-on Training
Inventory Kit
Concepts Manual
Notarized Franchise Agreement
After Sales Report 
How to Franchise Nacho Tacorama
Orientation/Seminar
Fill out the application form provided by Fab Suffrage Inc.
Pay the franchise package
Sign the franchise contract
Sketch the preferred location
Attend the seminar/training schedule
Food cart release (within 2 to 3 weeks)
Register the business

Contact Information 
Website: www.fab.ph
Email Add: ifabfranchise@gmail.com 
Contact Numbers:
(Smart) 0939-9163425
(Globe) 0917-1254451
(Landline) (02) 219 5869
Taco Tuesdays
Nacho Tacorama is under the TC Franchising & Business Development Co. or more frequently addressed as TCFranchising. The company is behind numerous small to medium franchise packages within the Philippines ' food cart industry.
With such broad experience across different F&B products, franchisees, especially first-time franchisees can be more assured that TCFranchising has the capacity to be a helpful guide on anyone's business journey.
Food cart Franchise Fee: 35,000
Kiosk Space Requirement: 4 x 2 x 6 feet
Inclusions:
Advertising Materials like
Cooking equipment and utensils
Crew uniform
Crew training
1,000.00 worth of product sampler
Operation seminar for franchisee
Notarized contract

How to Franchise Taco Tuesdays
Reach the contact person of TC franchising and Business Development Co.
Set an appointment for orientation and product tasting. The appointment will also allow applicants to inspect of cart and signage
The applicant may proceed with filling out the application form if they favored the business set-up. The applicant may also include a rough sketch of prospect location if available.
Settle fees for the Taco Tuesday franchise.
Read and understand the agreement form and sign the contract.
The franchisee can receive the franchise inclusion provided by the TC franchising within 2-3 weeks upon the date of contract signing.
Franchisee may start with hiring and training within the 2-3 week waiting period to receive the cart.
After undergoing all the procedures and receiving the inclusions, the franchisee may now open the business.

Contact Information 
Website: tcfranchising.ph
TC Franchising's Franchise contact person:  Mr. Tristan Pilongo (0915.6385699)