Filipinos are no stranger to trends. We have successfully adapted other countries' cultures into our own, and have celebrated them moreso than our own. You can see examples of this in the amount of Korean dramas people watch everyday, and the Japanese animes that kids love and enjoy. There is no doubt that the influence of other cultures have been deeply ingrained into ours, and you can't deny that you have watched an episode or two of Dragon Ball Z, Slam Dunk, or Ghost Fighter.
Hobing, a popular chain of Korean shaved ice dessert, proudly plays a music video of K-Pop idols, and is always overpacked at any time of day. Indeed, when it comes to trendy stuff, the Filipinos are quick to know and adapt. This is especially true when we are food lovers with a sweet tooth, as shown by our desserts such as the halo-halo and taho (yum!). So what are other ways to combine both culture and the love for all things sweet? Well, you get Moshi Manju!
For anyone who loves Japanese mini cakes, Moshi Manju offers a different take on the popular dessert. Similar in execution of mini donuts, these pastries are a delight to any fan of Korean desserts!
Does the business sound interesting to you? If so, continue reading to know more on how to franchise Moshi Manju!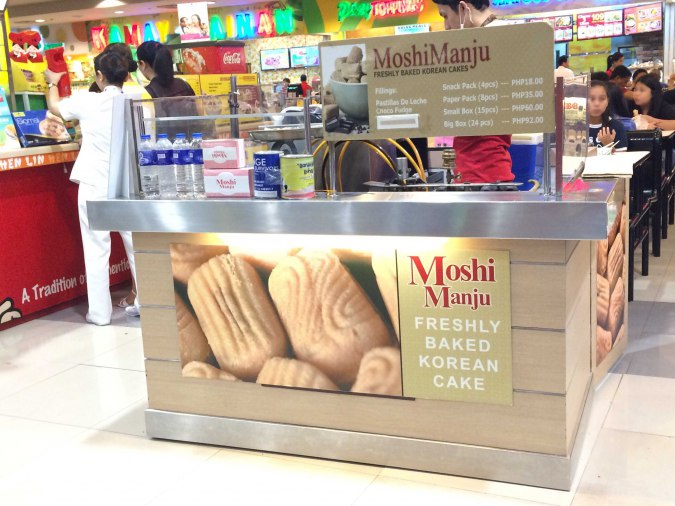 Brief Background on the Moshi Manju Franchise
Before it became the popular treat you know, manjū is a popular type of Japanese confection made out of flour, red bean paste, rice powder, and buckwheat mixed with sugar. They go through a process of repeated boiling and kneading process until they get the desired fluffy bun shape.
A subtype of mochi (rice cake), which came from China initially, but was from then on called manjū in Japan. For over 700 years, its eaten as a treat for Japanese people and are sold in almost all sweet shots in Japan. Not only is it delicious, but it is also an affordable treat that anyone can buy.
Moshi Manju's name may come from the Japanese confection, but the process of creating the treat is greatly different. Basically all Manju mini-cakes are small pieces of bite-sized cakes. Inside every core of a Moshi Manju cake is a filling that is akin to eating a fudge bar, but in cake form! They are made out of batter that is automatically produced by a machine. Moshi Manju mini cakes come in four packages:
Snack pack (4 pcs.)
Paper pack (8 pcs.)
Small box (15 pcs.)
Big box (24 pcs.)
They come in two flavors: "choco fudge" and "pastillas de leche". However, Moshi Manju used to offer a "custard" filling, and while delectable, was eventually phased out. The texture can be compared to that of a Japanese cake with a pancake consistency, with a thick filling on the inside of the mini cake. For the price of 60 pesos or less, you can satisfy your sweet tooth with an appetizing snack.
Moshi Manju has several stalls all around the Philippines, from malls such as SM and Walter Mart, to further into the islands of Davao City and Zamboanga.
Moshi Manju Franchise Packages
As of the moment there are information for the public to know how to inquire about Moshi Manju. Refer to the contact details below to know how to get in touch with them!
Check back from time to time as there are several opportunities in the future for you to know more about the business!
Moshi Manju Contact Details
Currently, there are not much available ways to contact Moshi Manju for franchising, apart from their Facebook page. Be sure to check back in this page to make sure that you get up to date with all the information you need.
Facebook page: /Moshi-Manju-169426657164449/
The Good in Franchising Moshi Manju
Franchising helps take away the inconvenience of finding a reliable supplier. The franchise has their own!
The business has been going strong for almost a decade, and proves to be a sustainable profit earner
The design of the store is done for you.
Franchising helps you establish a business that does not need to compete with other business
The Bad in Franchising Moshi Manju
Investment may not be friendly to some people's budgets
Lack of information may deter would be investors
Management may be up to the franchisor's term
If you are interested in becoming a franchisee, you need to possess these qualities to successfully run a franchise:
A human-centric approach in management
Consistent monitoring of the day to day operations of the business
A drive to constantly improve the service for the improvement of the operations
An immense spirit for leadership to tackle obstacles
Having any of these qualities will help you in managing any kind of franchise no matter the challenge.