As the Philippines is a third-world country, it is evident that most people who have and are born with illnesses and diseases are unable to afford the medical treatment they need. This is where the phrase "bawal magkasakit" started, as buying medicine is a luxury for those who cannot afford the cost and being taken to the hospital is something that is avoided to save from expenses.
Mercury Drug is one of the few drug stores in the country that is generous and provides programs to aide the poor while still maintaining a profitable business. Wouldn't you want to help your own country and profit at the same time? Read on to know more about franchising Mercury Drug!
Brief Background of the Mercury Drug Franchise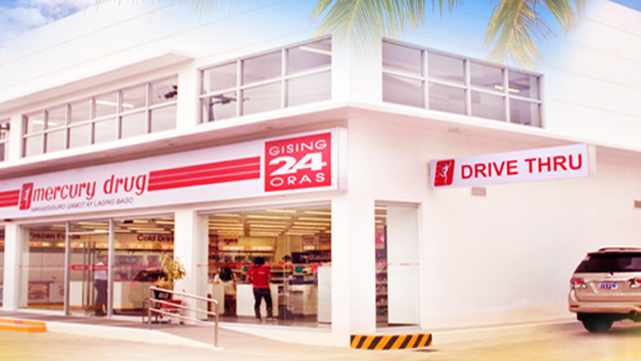 Mercury Drug began from a bottle of sulfathiazole, which was considered a wonder drug after the war.
It was 1945, and Manila had just been liberated from the Japanese occupation. The city was devastated and medicines were scarce and expensive. Mariano Que, who worked in a drugstore before the war, saw the need. He went to Bambang St., Manila, where the action was then, on advice of a friend, and saw a peddler selling sulfathiazole there. He recognized it as the 'wonder drug' believed to cure all diseases. Seeing a 'W' on the tablets, he knew it was the genuine sulfathiazole. He tried to buy a bottle for P100, the only money in his pocket.
The peddle wanted more but as Mariano Que had only P100, the peddler agreed to sell to him. He then sold these tablets by piece or "tingi-tingi" to make the medicine more affordable. With some profit, he was able to purchase other medicines and eventually a pushcart, which he loaded with his growing supply of pharmaceutical goods.
From these humble beginnings, the first Mercury Drug store opened on March 1, 1945 in Bambang St.
Mercury Drug is more than just a pharmacy – it is the country's trusted and caring health and wellness partner, providing the widest range of branded and generic medicines, as well as a complete line of healthcare and personal care products, including medical devices, and basic everyday needs. Through the years, Mercury Drug has opened store after store all over the Philippines to bring medicines within easy reach of its customers. Today, it has grown into a vast network of more than 1,000 stores nationwide with over 14,000 employees, who are continuously trained on product knowledge and customer service, to ensure that customers "have what you want, when you want it, where you want it, how you want it."
Corporate Social Responsibility:
Mercury Drug engages in corporate social responsibility programs, through Mercury Drug Foundation, as a way of giving back to the people for their loyal support through the years. At the very core of this effort lies a strong sense of compassion inspired by the commitment to make a meaningful difference, beyond pharmaceutical retailing, in the communities where Mercury Drug operates. By undertaking sustainable social responsibility programs focused on health and education, the company hopes to help build a healthy, educated, and productive nation while remaining true to the spirit of service that has given birth to Mercury Drug.
Operation Bigay Lunas – The program gives free medicine and medical service to communities that are underserved throughout the Philippines.
Operation Pa-Tubig – Operation Pa-Tubig enables safe and easy access to clean potable water in marginalized waterless communities to improve their health and quality of life.
Bantay Kalusugan – A healthcare preventive program that aims to increase awareness on chronic non-communicable diseases (NCD) and address malnutrition in children of the Philippines
Pharmacy Scholarship – The program grants full scholarships to those who deserve it and are financially-challenged pharmacy students enrolled in PACOP-member schools.
Awards in 2018:
Most Trusted Pharmacy Chain in Asia. Asia's Most Trusted Brands Survey (IBC/MRG).
Asia's Most Trusted Brands survey is a concept of International Brand Consulting Corporation USA (IBC), conducted by Media Research Group (MRG), which asked consumers about the brand they trusted most, based on top-of-mind awareness, last brand used and brand intended to use in the near future.
Platinum Most Trusted Brand, Pharmacy/Drugstore Category. Reader's Digest 2018 Trusted Brand Survey.
The Reader's Digest Trusted Brand Survey, conducted by market research company Catalyst Research, asked consumers to name the brands they trust the most and then to rate those brands on the attributes of trustworthiness, quality, value, understanding of consumer needs, innovation and social responsibility.
The Platinum Trusted Brand Awards are given to brands that performed exceptionally, winning their category with a score that vastly outpolled their nearest competitor.
Steps to Franchise Mercury Drug
As of writing, Mercury Drug is not open for franchising and all branches are company owned. Look out for investment opportunities in this page in the future when Mercury Drug gives an update about franchising.
Contact Information
Office address: 7 Mercury Ave. cor. C. P. Garcia Ave., Bagumbayan, Quezon City, 1110 Metro Manila, Philippines
Website page: www.mercurydrug.com
Email address: info@mercurydrug.com
Facebook page: mercurydrugph
Twitter page: @mercurydrugph
Telephone number(s): (632) 911 5071 / (632) 911 6673
The Good in Franchising Mercury Drug
A sustainable business model
Reputable business
The Bad in Franchising Mercury Drug
Management is restricted to being by the book
As a well-known business, expect to invest more in Mercury Drug