Who would not miss that fresh-off-the oven experience that a fresh pizza would offer? Whether it might be the cheese, or the variety of toppings that makes each pizza flavor unique, Filipinos have grown to love this Italian-born food.
Throughout the years, pizza as become one favorite among Filipinos, whether they may be the barkada's main food, or a snack, or even as pulutan to match beer for a drinking session
Lots'a PIzze Franchise Details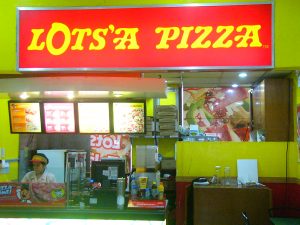 But it was not recently that pizza was a favorite. It has gone through time to become a Filipino favorite. One particular pizza store, Lots'a Pizza, has endured this test of time. It traces its roots back from the 1980s, when its founder Mr. Eduardo Ngan Tian used to sell, interestingly, snack items like peanuts, ice cream, banana cue, candies, cigarettes and gums. Eventually he would find stalls in a manila school, where the brand name Lots'a Pizza would eventually be born.
Lotsa Pizza would stand out the test of time through the years. The founders even have to go to conventions outside the country to learn new ideas for the pizza business. Eventually, they developed what they would call the "Filipino Pizza" that captures both the Filipino palate and pocket.
Eventually the founders consulted a franchise firm, which later on translated into their own franchising in 2000.
The Lots'a Pizze Alternative: Pizza Delite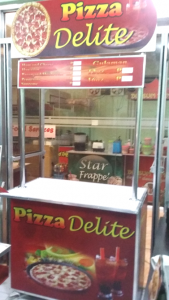 It is clear now that the Filipino taste buds have already taken a liking for pizza. This is what drove Fab Suffrage Inc. to include pizza in its food carts options. They now offer Pizza Delite as their answer to the Pizza market.
And as if to grab a page off the former's book towards a Filipino clientele, Fab Suffrage makes sure that Pizza delite products are both affordable as well as delicious.
But Fab Suffrage also makes sure that it would not be a task to pick a pizza flavor, thus limiting Pizza Delite's menu. Among Pizza Delight flavors are Ham and Cheese, Hawaiian, Bacon and Mushroom, Pepperoni and Supreme.
Interested parties can avail of a Pizza Delite Food Cart Franchise Package for  Php 59,000. The following are included in the franchise package:
Semi High End Cart
Complete Set of Heavy Duty Equipment (Acrylic Juicer, Sauce Dispenser, Tong, Spatula)
Utensils and Wares
An initial inventory which costs P3,000
Crew Uniform (T-shirt, apron, hairnet)
Franchise Seminar
Crew Hands-on Training
Inventory Kit
Video Training & Operations Manual
Costing and Pricing Manual
Notarized Franchise Agreement
After Sales Support
More than that, FaB Suffrage, Inc 's Pizza Delite offering has no royalty fee, no renewal fee, no hidden charges, and no sales quota. They also target a return of investment in 5 to 6 months.
FaB Suffrage will help recommend locations, and will also provide assistance in business registration as well. Also, offers free food tasting and orientation to interested franchisees.
To learn more about the brand, interested parties can visit FaB Suffrage's home office at Ground flr. St. Martin Bldg. Westpoint St., Cubao, Quezon City, Philippines 1109. Contact Mr. Edison Gomez at 09985928617 / 09175323708.