The market of cold drinks is steadily rising, and demand for cold drinks is on the rise. Filipinos would surely love any cold beverage, whether they be tea, milk, chocolate, or even coffee. But customers would always likely to have something to go with their drinks.
Infinitea is recognized as one of the premier franchising companies in the Philippines for cold beverages, with more than 90% of their shops strategically placed nationwide which are all owned and operated by their franchisees.
What To Expect With Doing Business With Infinitea

Infinitea offers a wide variety of cold beverages. Some of their best selling products are milk tea, original tea, fruit tea, and their ice series. Each series feature a wide variety of flavors to choose from.
The brand is placed within a set captive market, and a franchisee would just have to contact them for inquiries on how to manage an InfiniTea franchise.  It is also quite true that Infinitea offers a vast array of products to sell. Unfortunately, their website does not offer much assistance on what fees an entrepreneur must shell out if they would like to start one.
How About an Alternative to Infinitea Franchise?
So if a businessman would look for another brand that gives out a fairly straightforward approach and information about their brand, there is yet another business that they can go to.
Star Frappe Is The Alternative to Ininitea Franchise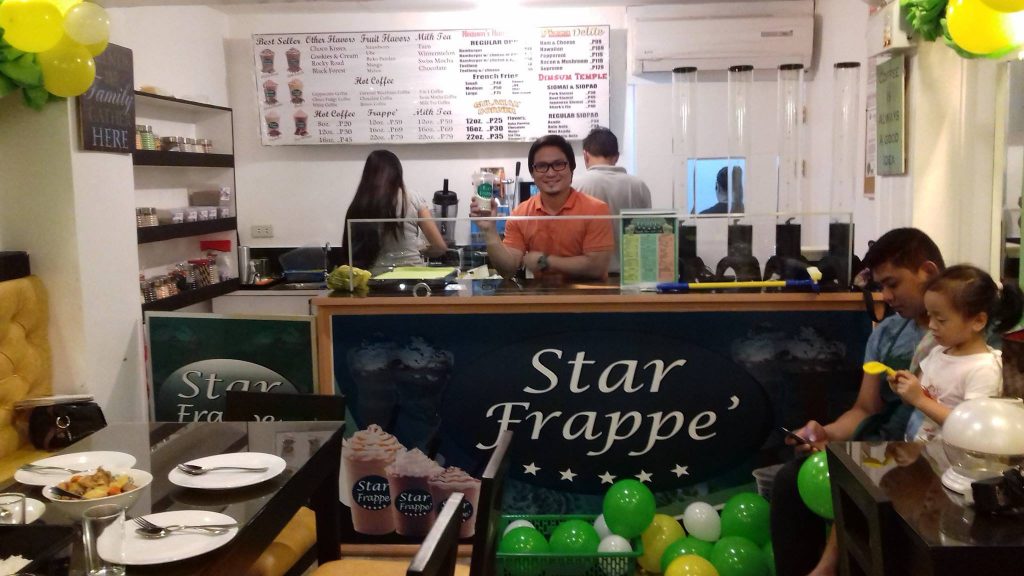 Fab Suffrage inc. offers Star Frappe Snack Bar and Café. Besides serving beverage products like coffee, coffee shakes, frappe (frappucino), milk tea and hot beverages, they also have
Additionally, they have a wide array of food products, from siopao, siomai, rice meals, sisig, up to pizza, that will rival that of Infinitea's menu of just beverages. This makes Star Frappe a one-stop food shop business.
Here are all the other inclusions that a Star Frappe franchise will throw in:
The use of trade name and proprietary marks
● Hands-on training for both franchisee and staffs
● Commercial signage, counter and lighted menu
● Marketing, operational and pre-opening assistance
● Continuous site visit and guidance
● All products in the menu
● 5 Concepts complete equipment for the operations
● 2 Cooler ice boxes
● 10 Service crew uniforms
● Chest freezer
● P30,000 worth of products
● 2 Tarpaulin banners
A required space should be prepared beforehand, with a measure of at least 30-40 sqm to cater the needs of the store and maintain a comfortable ambiance for the customers. This will be used for the brand's café-styled space, with seats that will cater to customers' convenience which will surely rival those of Infinitea's kiosk space.
Perhaps the best thing that Star Frappe will offer is their low franchising cost. Having a Star Frappe Snack Bar is very affordable. Their franchising fee is known up-front, at a very low P300,000. They also offer very flexible in terms of product mishmash and the packages the give out. The franchise term is until three years, which is renewable without any additional fee.
Star Frappe is definitely the way to go for an entrepreneur wishing to dive in the cold drink business, while offering more than just cold beverage. To know more about Star Frappe, you can visit them at their office address at #17A Ground flr. St. Martin Bldg. Westpoint St., Cubao, Quezon City, Philippines, 1109. You can call them at 0917-5323708,  0998-5928617 or (02)6231856.