"Don't work for money, let the money work for you,"
It's one of the famous quotations and a state of living many years to have. While not easy to achieve, it's not impossible. The key to making the money work for you is the find the ideal source of income beneficial both to your own circumstances and the demands of today.
An outstanding candidate of such can be TouchPay- with the help of their Automated Payment Machine (APM) Units, franchisees can earn a living using electronic services needed by today's generation on their everyday life, without the help of an operating staff to oversee the transaction, or an enormous site to accommodate the unit.
It's easy to manage system makes it ideal for those who are beginning to enter the business. Read more and find out how TouchPay's APM unit can help you realize making the money work for you.
About TouchPay
TouchPay is a payment collection company, dedicated to the field of payment and tractions through electronic services.
Their mission is to provide the most convenient, trusted, reliable, and efficient automated network of the fully-electronic powered system, while implementing speed, safety and security 24/7.
Services Provided by TouchPay
Some of the registered billers customers can receive services from are Steam wallet, Globe, Smart, Metrobank and more.
Mobile Reload
Bills Payment
E-Money
Gaming E-Pins
Government Services
Transport
Loans
And other online services
TouchPay Franchise Details
Total Investment Cost- 350,000 (per APM)
Location Requirements
Less than 1 sqm of size area
electrical outlet
dependable cellphone reception.
Estimated Daily Electric Consumption per unit- APM power supply is 220v with monthly consumption (max: 300w) of Php350-Php500 on a 24 hours operation.
How to Franchise TouchPay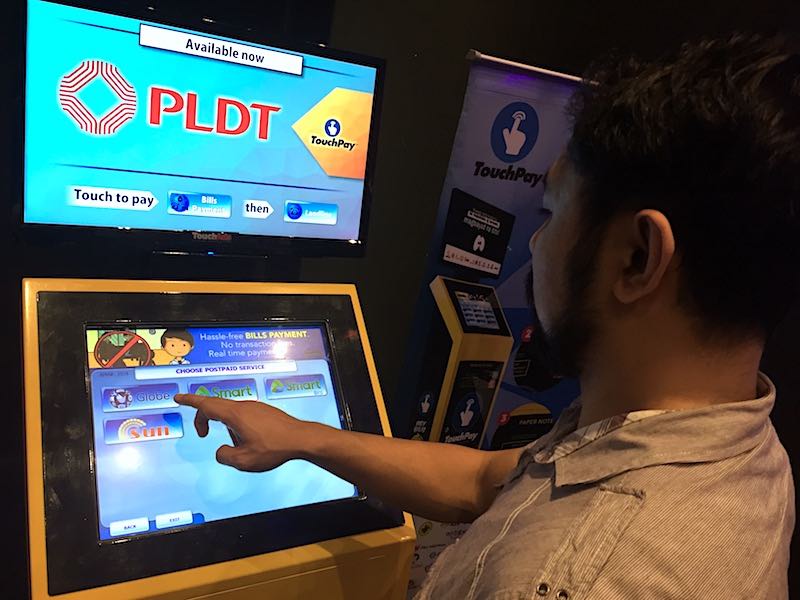 Submit a letter of intent to TouchPay.
Proceed with Preliminary interview and the evaluation of proposed site for APM Deployment.
Once the site is evaluated and deemed accepted by company, the applicant can now be granted the rights to franchise TouchPay.
Contact Details
Website: http://touchpay.ph
Facebook: https://www.facebook.com/touchpayofficial/
Metro Manila
+ (02) 232.8946
+ (02) 232.8947
Outside Metro Manila
+ (63905) 327.7000
+ (63908) 327.7000
Email: custcare@meps.ph
Why is TouchPay an Ideal Investment?
No Service Fee- The perk greatly attracts customers who wish to settle their bills without the added service charge most similar business concept implements.
Ease of Deployment- No construction time and required number of manpower needed to operate the system. Security is also not a problem, as it is one of the top factors evaluators consider in terms of scouting a proposed location.
On-Line Real-Time- APM investors are provided with a weblink they can visit to monitor the on-going sales of the designated unit, real-time anywhere.
24/7 Operating Service- The system as long as powered with electricity, operates 24/7, without the help of staff to mandate its operation, making it an easy profitable side business, franchisees can earn without hassle.
Disadvantages of Franchising TouchPay.
The overall system and perks which entail on investing to TouchPay's APM unit don't pose any significant disadvantages; However, if there's a notable con to the unit- it's incapability of receiving coins.