Have you met a Filipino street vendor? These days consist of french fries, fish balls, and even chopped pieces of hot dogs. Of course, a snack would not be complete without a refreshing drink. These small meals are especially important for the hustle and bustle lifestyle that people have, for those that are always on the go, or are in their downtime. When you meet one of these street vendors, they are usually swamped by crowds that consist of office workers and students alike situated in streets of high traffic areas.
What if you are on the clock and have no time to idle in one those areas? How will you enjoy street food without the hassle of holding both food and drink in your hands? Enter Kerrimo, whose owners have delved into that exact kind of situation! An innovative product that combines both food and beverage into a multifunctional and easier design to hold onto!
The entreprenuerial spirit can definitely be seen when you know how successful Kerrimo is! It is also a classic situation that entrepreneurs aim to solve: make a product that offers a need. In turn, a product was born and with it, its customers and a steady profit for its makers.
Does that sound enticing to you? Are you interested in joining one of the fastest growing franchises in the Philippines? Keep on reading to learn how to franchise Kerrimo!
Brief Background of the Kerrimo Franchise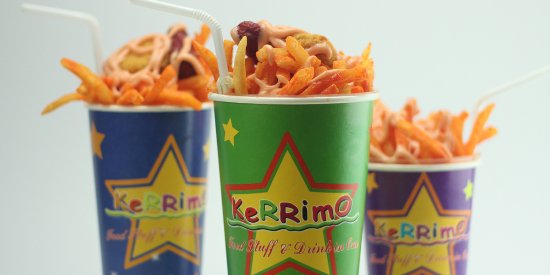 Kerrimo was introduced in 1998, when it was marketed with the slogan "The Original Food and Drink in 1" combo; an easier method of eating a variety of snacks: from hot dogs, french fries, and cold drinks.
Apart from your standard french fry flavor, they also come in a various other flavours such as BBQ, cheese, sour cream, and onions. Additionally, you can opt to put hotdogs and chicken nuggets as well, inside the pretty packaging design that all their cups have.
Kerrimo's name comes from the play on words "carry mo", which means in English as "to carry". This motto has found its way to success in two decades, and has spawned many branches; over a hundred nationwide! The ingredients are from rich countries such as Belgium and the United States to guarantee the freshest of ingredients.
Kerrimo has since then been acquired by Arjolan Premier Corporation, and has definitely helped in expanding all throughout the country with food stalls and carts in Luzon, Visayas, and Mindanao.
Kerrimo Franchise Packages
Anyone with a budget can enjoy several options that Kerrimo offers, and they range from Php 250,000 to Php 350,000. All packages are inclusive of a Php 100,000 franchise fee.
Kerrimo has 3 types of stores to offer: kiosk, cart, and stall. They all require an area of space at least 5 square meters or 2 sqm x 2.5 sqm.
Included in the package are:
Construction of the cart and counter
Franchise fee of Php 100,000
In-house marketing
Free training for two staff members
Initial inventory worth 10,000 pesos for pre-opening
4 staff uniforms
1 unit of Range Hood
1 Complete Set of Utensils
1 Set of Office Supplies
1 Set of Cleaning Materials
4 pieces of uniform for the staff
1 unit of 9 cu ft Sanden Freezer
2 units of 8L Cap Deep Fryer
1 unit of 8L Tab Juice Dispenser
Good news! Kerrimo does not include any royalty fee unlike other franchises, that require a fee for a specific amount of sale generated.
Steps to Franchise Kerrimo
Approval for location
Submit a Letter of Intent via email (contact details below)
Send a resume with your picture to Kerrimo Main Office
Accomplish the Franchisee Evaluation form alongside all requirements
Face to face meeting with the franchisor
Pay the franchise fee of Php 100,000
Finalization of all requirements to the lessor
Contract signing with Kerrimo and down-payment
Opening day of the store and payment in full
First payment: After face to face meeting
Second payment: Cash or dated check after proposal signing
Third payment: A week before store opening
Final payment: Day of store opening
Legal documents (BIR certificates, government permits) will be handled by the franchisee.
Kerrimo Franchise Contact Details
Office Address: : City Park Ave. Cor. Bahayang Pilipino Village, City Park Subdivision, Sabang, Lipa City, Batangas, Philippines
Website: www.kerrimo.com
Mobile number: 0917 823 3310
Landline number: 043 774 0570
Email address: franchise@kerrimo.com
Facebook page: kerrimoPH
The Good in Franchising Kerrimo
Your profit are all yours to keep since there are no hidden charges or royalty fees every month
The franchise package has got you covered during the inital opening of the store
Newbie franchisees would find it feasible to own a profitable business with Kerrimo as it offers a low-cost supplier for the inventory
The Bad in Franchising Kerrimo
The cost investment is relatively higher compared to usual food cart businesses
You (the franchisee) are responsible for processing all the legal documentation, not Kerrimo