Filipinos just love to have a good cold drink in a hot weather. Shake Republic knows this, and they conceptualized House of Frappe.
The brand began to market their cold mixes in their first branch in Sta. Lucia East Grand Mall in the same year it was established in October 10, 2010. They offer their original mix of frappe such as chocolate frappe, coffee frappe, creamy frappe and yogurt frappe.
House of Frappe now offers franchising, and welcomes entrepreneur to be a part of the brand's business.
What To Expect With A House Of Frappe Business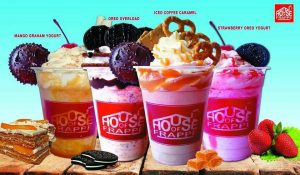 House of Frappe currently has a few branches up. Entrepreneurs will be selling the brand's quality gourmet Frappe at an affordable price. They offer three concepts for you to choose: frappe, yogurt, and pearl shakes
Getting a franchise with House of Frappe will include a mall cart and site approval, as well as all the equipment needed by the stall. Franchisees will be using the trade name and logo of the brand. Other business matters are also included, like training and manpower, operations manual, and research and development.
The brand will also be helping with opening the store, as well as assist in the set-up for the entire business cart and kiosks.
The initial term for doing business with House of Frappe is four years Budding entrepreneurs would likely to as the franchise fees. The brand's initial fees are pegged at Php50,000.00, while equipment package starts at Php250,000.00. There is also a continuation fee of  Php3,000.00 a month. This will net you a total of P300k initial investment (minimum) plus the continuation fee monthly an operational food kiosk.
If you would like to start a House of Frappe Franchise, check out this page from House of Frappe itself.
An Alternative to House of Frappe Franchise
But is there another option for an entrepreneur  if they would still like to dip into the beverage industry.
Star Frappe As A Good Choice to House of Frappe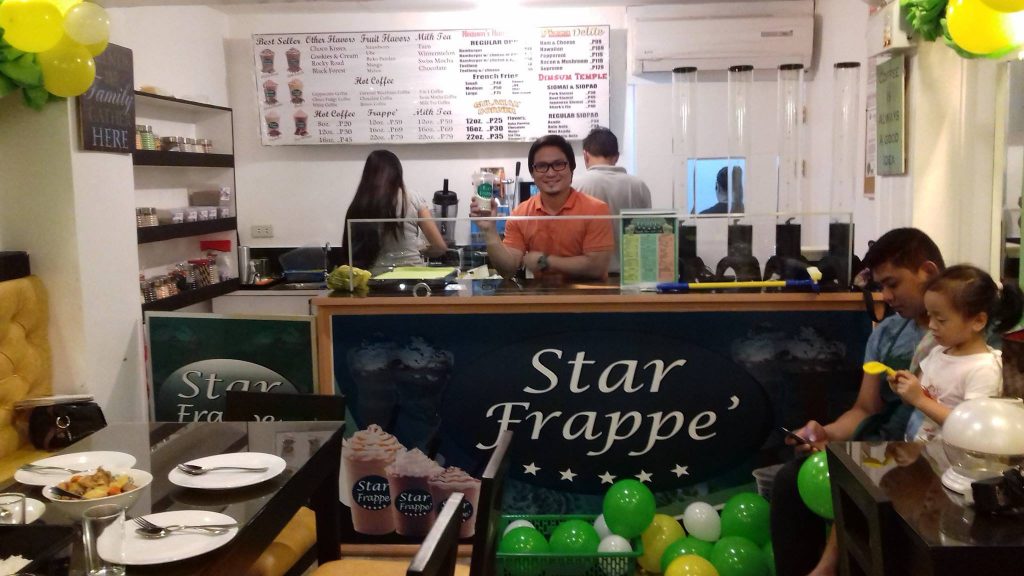 Fab Suffrage inc. offers Star Frappe Snack Bar and Café that also serves coffee, coffee shakes, frappe (frappucino), milk tea and hot beverages, much more like Starbucks. Additionally, they have a wide array of products, from siopao, siomai, rice meals, sisig, for starters.
Here is a list of all the other inclusions that a Star Frappe franchise will throw in:
The use of trade name and proprietary marks
● Hands-on training for both franchisee and staffs
● Commercial signage, counter and lighted menu
● Marketing, operational and pre-opening assistance
● Continuous site visit and guidance
● All products in the menu
● 5 Concepts complete equipment for the operations
● 2 Cooler ice boxes
● 10 Service crew uniforms
● Chest freezer
● P30,000 worth of products
● 2 Tarpaulin banners
If all those are not enough, the best thing that Star Frappe will offer is, of course, their low franchising cost. Having a Star Frappe Snack Bar is very affordable, with their franchising fee at a very low P300,000.
They also offer very flexible in terms of product mix and the packages the give out. The franchise term is until three years, which is renewable without any other additional fee compared to the monthly continuation fee of House of Frappe.
A required space should be prepared beforehand, with a measure of at least 30-40 sqm to cater the needs of the store and maintain a comfortable ambiance for the customers. This will be used for the brand's café-styled space, with seats that will cater to customers' convenience and rivalling that of House of Frappe's cart or kiosk set-up.
Star Frappe will definitely help you in this business venture. To learn more about them, you can visit them at their office address at #17A Ground flr. St. Martin Bldg. Westpoint St., Cubao, Quezon City, Philippines, 1109. You can call them at 0917-5323708,  0998-5928617 or (02)6231856.