Gulaman is a dry seaweed bar – although there are powder varieties as well – that sold in supermarkets and is used in making flans, jellies, and come in different colors. Filipinos have taken gulaman on its own as a dessert, or added to drinks in occasions. In any form it takes, gulaman is very refreshing, most especially in the scorching summer season.
Sago, meanwhile, is boiled taro shaped like small spheres, which made it more popularly known as pearl. This, together with gulaman and added to flavoured drinks, is what Filipinos come to call "Sago at Gulaman."
From the streets to mall stores, Sago at Gulaman have been sold in stalls to go with the street foods or whatever food stores offer. It is best enjoyed with milk, fruit juice or fruit bits (buko pandan goes well with it) when sold commercially.
Gulaman Avenue Franchise Details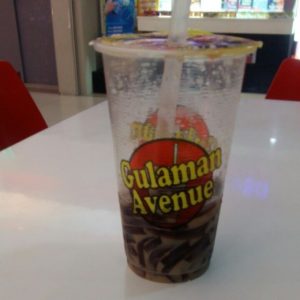 Gulaman Avenue is one among these commercial cold beverage brands. Their website says they are located in Commonwealth Avenue, Quezon City.
Problem is that one interested party who wish to do business with Gulaman Avenue needs to call the company to gain more information, as they really do not have that much included in their website. They do not even include their product descriptions there.
Fortunately, they might have stumbled upon yet another gulaman brand while searching through the internet.
Gulaman Corner Food Cart as Alternative
FaB Suffrage, Inc. carries its very own gulaman drink brand. The company offers Gulaman Corner as their ace in the sago at gulaman business.
Unlike the previously mentioned brand, Gulaman Corner is pretty much straightforward with stating its products. The brand offers a wide variety of food products, their menu of drinks ranging from the basic sago't gulaman, to buko juice, buko pandan, halo halo, mango, melon, pineapple, ube macapuno and chocolate.
Now, interested franchisees who wish to dive in to the cold beverage business can avail of Gulaman Corner's franchise package for PHP 79,000. The following are included in Gulaman Corner Food Cart Franchise package:
Semi High End Cart
Complete Set of Heavy Duty Equipment
Utensils and Wares
An initial inventory which costs Php 3,000
Crew Uniform (T-shirt, apron, hairnet)
Franchise Seminar
Crew Hands-on Training
Inventory Kit
Video Training & Operations Manual
Costing and Pricing Manual
Notarized Franchise Agreement
After Sales Support
To franchisee's advantage, FaB Suffrage, Inc will also recommend locations, and will be ready to assist with business registration. Also, FaB Suffrage, Inc 's offering has no royalty fee, no renewal fee, no hidden charges, and no sales quota.
To learn more about the brand, interested parties can visit FaB Suffrage's home office at Ground flr. St. Martin Bldg. Westpoint St., Cubao, Quezon City, Philippines 1109. Contact Mr. Edison Gomez at 09985928617 / 09175323708.