With inflation affecting the prices of food, gas, and even medicine, it is more important now more than ever to save money in every way you can. Which is why Generika Drug Store proivdes affordable medicine for those who can't purchase branded medicine.
The importance of medicine cannot be understated, and with the market for it being consistent, you can never run out of business with medicine.
Wouldn't you want to be part of a good franchise that supplies affordable medicine? If you are, keep on reading to know how to franchise Generika Drug Store!
Brief Background of the Generika Drug Store  Franchise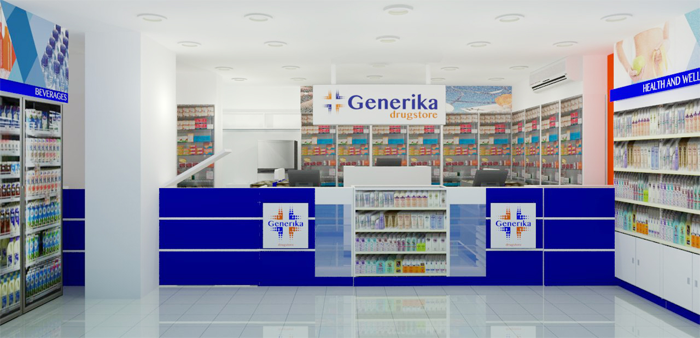 Generika Drug Store was established in 2003 to open the market to a cheaper alternative to pricy medicines that are dominant in the country.The first store was so successful, that it has now expanded up to 360 stores all over the nation.
Franchise Packages
Standard Package (Franchise fee of Php 210,000)
Investment cost: Php 900,000 to Php 1,700,000
Franchise inclusions:
Store renovation
Initial inventory
Furniture and fixtures
Operating capital
Franchise/ Initial Fee
Business permits
Security deposit to commissary
Computers, software, POS system
Pharma, operations and marketing supplies
Important: The Franchisee must be cautious during site selection and store preparation in order to minimize the cost of renovation, other capital expenditures and expenses that would increase the total investment.
Total Investment for a Generika outlet in a particular location will vary based on the size and condition of the store, equipment required, prevailing rates for rent, amount of advance rent and deposit, and the need for working capital and contingencies.
Additional responsibilities of franchise applicant (with guidance from Generika Drugstore):
Hiring of staff
Securing business permits
Hiring of store renovation contractor
The franchise fee of Php 210,000 is a one-time payment with a term of 5 years.
The franchise fee is for the assistance in interviewing, hiring, and screening of potential candidates as store personnel, a 13-day comprehensive training for you and your staff. Additionally, the fee includes assistance in store design, monitoring its progress, and permit processing.
After the 5 year term has ended, you have the option to renew the franchise, but will be charged 30% for the franchise fee, and the renewal is again valid for another 4 years.
You may opt to sell your franchise, but first inform Generika Drugstore of your intention to sell. This is for Generika Drugstore to evaluate any interested investor and that your replacement is qualified for managing the operations.
Frequently Asked Questions (FAQ)
What is the store size requirement?
Generika Drugstore prefers to have at least 20 sqm to 40 sqm with at least 3 to 4 meter frontage. This is an ideal size that can fit many of the equipments needed, such as the refrigerator, computers, and tables, as well as an area for the customers. A restroom is recommended, but not necessary.
What are the available store models of Generika Drugstore?
Generika Drugstore only has 1 store model, which is the standard model. The standard model can be used for areas where market population is above 30,000 with required space being more than 25 sqm.
What are the store location requirements?
Preferrably, location of the Generika Drugstore should be at the ground floor of any building. The store should also be located alongside a main street,  in a corner intersection where there is hight amount of foot traffic and good amount of visibility available with minimum obstruction for pedestrian traffic. Examples of such locations are nearby landmarks, jeepney terminals, wet markets, commercial areaks, and clinics.
What are qualities do you look for in a franchisee?
Franchisees must have a hands-on approach in business management, with a little amount of knowledge. They must also be able to have the ability to manage multiple branhes and have enough funding to sustain a business in franchising.
Steps to Franchise Generika Drug Store
If you wish to invest in Generika Drug Store, we recommend emailing them (contact information provided below). In this way, you are able to be directly assisted as well answer any of your inquiries.
Generika Franchise Contact Information
Head Office Address
DPI Bldg., 1st St. Cor. 2nd St., Cervantes Compound, KM. 17,
West Service Road, Paranaque City
Hotline number: (632) 828-1818
Email address: franchising@generika.com.ph
Telephone number: 02 828 1818 loc. 131
The Good in Franchising Generika Drug Store  
Additional revenue generating sources. (I-Load (Globe, Smart & Sun)
MEDPadala (the first electronic gift check for medicines))
Advanced information system and fully computerized operation. (Proprietary Point of Sale (POS) system helps you monitor sales transactions, inventories and manages your store conveniently.)
Dedicated support of franchisees (Ongoing monitoring and business consultation with franchisor)
Emphasis on quality and service (Air-conditioned stores to maintain the potency of medicines with highly trained store personnel)
Wide range of products (Generic medicines, branded medicines and selected consumer goods.)
Commendable track record (Multi-awarded drugstore business)
Strong sense of social responsibility (Patient counseling, Libreng Konsulta, Mobile Lab services, etc.)