Filipinos love embracing other cultures, you see them influence our music, our shows, and even food! Most notably, the food, such as Chinese cuisine. Crowd favorites such as dumplings, siomai, and siopao all came from China and have since then become a staple of Filipino street food. One particular type of food that we all know and love are fried noodles, yes, fried noodles are commonplace in our diet from traditional brands to exotic ones, we often look for the noodles that fit our taste!
Such businesses like a fried noodles food cart, are often viable and profitable enough with its perk of needing minimum capital requirements. Below is a list of the best start-up franchises you can invest in!
1. Pinoy Style Noodles

FaB Suffrage Inc. knows just how hard it is to set up a business and the costs that follow it, that is why they came up with Pinoy Style Noodles as the low investment costs are a very good deal if you want to earn an extra income!
Franchise Information
Franchise fee: P59,000
No royalty fee
Return of investment: 1-3 months
Food cart and store with cabinet plus drawer
Necessary operational equipment
Days' worth of product
Franchisee training
Site assistance
Business materials about the food cart concept
Sales and strategic planning seminar
Free delivery of the food cart
E-loading service
Contact Information
Address: #17A Ground flr. St. Martin Bldg. Westpoint St., Cubao, Quezon City, Philippines 1109
Website: http://fab.ph/
Phone no.: 0917-5323708 / 0998-5928617 / (02)6231856 – Look for Edison Gomez
You can check out our page for Pinoy Style Noodles here.
2. Noodle House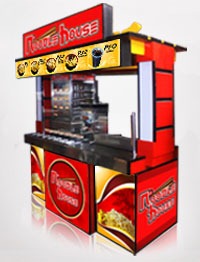 JC Franchising Inc. started in 2006 to look for potential food cart business ideas, and since then have grown and their mission to give aspiring Filipino an extra income is working well for them. Noodle house is just one of their own food cart franchises but its popularity deserves praise as they offer budget friendly meals for as low as 30 pesos without compromising the quality!
Franchise Information
Franchise fee: P78,888
Franchise Inclusion:
Trademark and logo
Banner and stand, menu
Food cart
Equipment and kitchenware
Food samples worth P1,000
Notarize franchise contract
Set of 6 staff uniform
Four-day on-site staff training
Monitoring officer support
Staff training
Operations manual
Opening day support
Contact Information
Address: JC Franchising Inc. 1196 Batangas St., San Isidro, Makati City, Philippines
Website: www.jcfranchisinginc.com
Email: customersupport@jcfranchisinginc.com
Telephone no.: (02)889-4773 to 76
Mobile no.: 0917-852-3726 or 0917-8JC-FRAN
3. Hong Kong Style Fried Noodles & Dimsum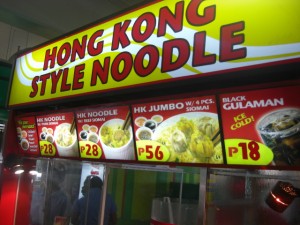 To have the name of the style of fried noodles your serving is something to be proud of, as that is exactly what they offer: the close taste of authentic Hong Kong cuisine! Initially established as Lin-Shin Noodles & Dimsum at Caloocan City, they reopened it as a restaurant. It's company owner, Asia Pacific & Global Franchise Co. is a member of the Philippine Franchise Association and has won numerous awards such as most outstanding food cart in Metro Manila!
Franchise Information
Franchise fee: P135,000
Franchise Inclusion:
Grand Opening Assistance
Food cart
Heavy duty steamer
Marketing collaterals
Set of staff uniforms
Initial supplies
Griddle
Equipment and kitchenware
Menu board
Franchise training
Pre-opening assistance
Location assistance
Contact Information
Address: Asia Pacific & Global Franchise Co. Unit C-4 Dunville Condominium, Castilla St. Brgy. Valencia, New Manila, Quezon City
Website: www.asiapacificfranchising.com
Mobile no.: 0922-830-7611, 0917-5000-772
Telephone no.: 343-0536
4. Dimsum Republic
Dimsum Republic is owned by KJA Global Franchising Company Inc., a Filipino-owned company established in 2005. Its mission to offer food cart franchises to OFWs, middle-class, and retirees looking for an extra income has been accomplished many times before. KJA GFCI is also a member of the Philippine Franchise Association. Dimsum Republic remains in operation all over the country and was awarded most outstanding food cart business in the country in 2007!
Franchise Information
Franchise fee: P250,000
Total Investment cost: approximate P800,000 to 1M
Contract term: 3 years
Required space: 14 sqm to 25 sqm
Franchise Inclusion:
Food cart
Trademark and logo
Crew uniform
Marketing collaterals (flyers, tarpaulin, etc.)
Initial supply
Initial packaging materials
Franchisee and staff on-site training
Location assistance on malls
Store lease support
Pre-, during, and post-opening day assistance
Operations manual
Notarized franchise contract
Contact Information
Address: 239 C. Cordero Street, corner 7th Avenue, West Grace Park, Caloocan City
Website: www.kjasummit.com
Email: info@kjasummit.com
Telephone no.: 632)348-6786, (632)542-3716, (632)442-1648
(63922)8-DIMSUM/ (63922)8-346786 ,
(63922)8-KJA-777/ (63922)8-552-777,
(63922)8-KJA-333/ (63922)8-552-333
5. Ching's Fried Noodles
The owners of Ching's fried noodles guarantee the freshest of fried noodles since they produce their own in their factory. Started in 2007 in Manila, it expanded on to several different locations because of its take on high quality and best ingredients for fried noodles. They are looking for eager entrepreneurs wanting to help promote their growth!
Franchise Information
Franchise Type:
Minicart: P110,000
Foodcart: P185,000
Franchise Inclusion:
Training and orientation
Staff uniform
Initial supply of inventory
Marketing collaterals
Food cart with side cabinet
Equipment
Trade name and logo
Kitchenware
Contact Information
Address: Luckyrich Trading Co., 11/F Unit 4 The One Executive Bldg., No. 5 West Ave. cor. Martinez St., Quezon City, Philippines
Email: chingsfriednoodles@yahoo.com
Mobile no.: 0922-820-2329
Phone no.: (02)255-4665, (02)345-8203