Filipino's love to mix coffee to their beverages, especially so when the summer is beating you down with the heat! Iced coffee in particular sounds very delicious among consumers, and it's proven to be successful all around in the Philippines. Investing in a Frappe franchise is a safe bet as it continues to be a thriving industry!
Star Frappe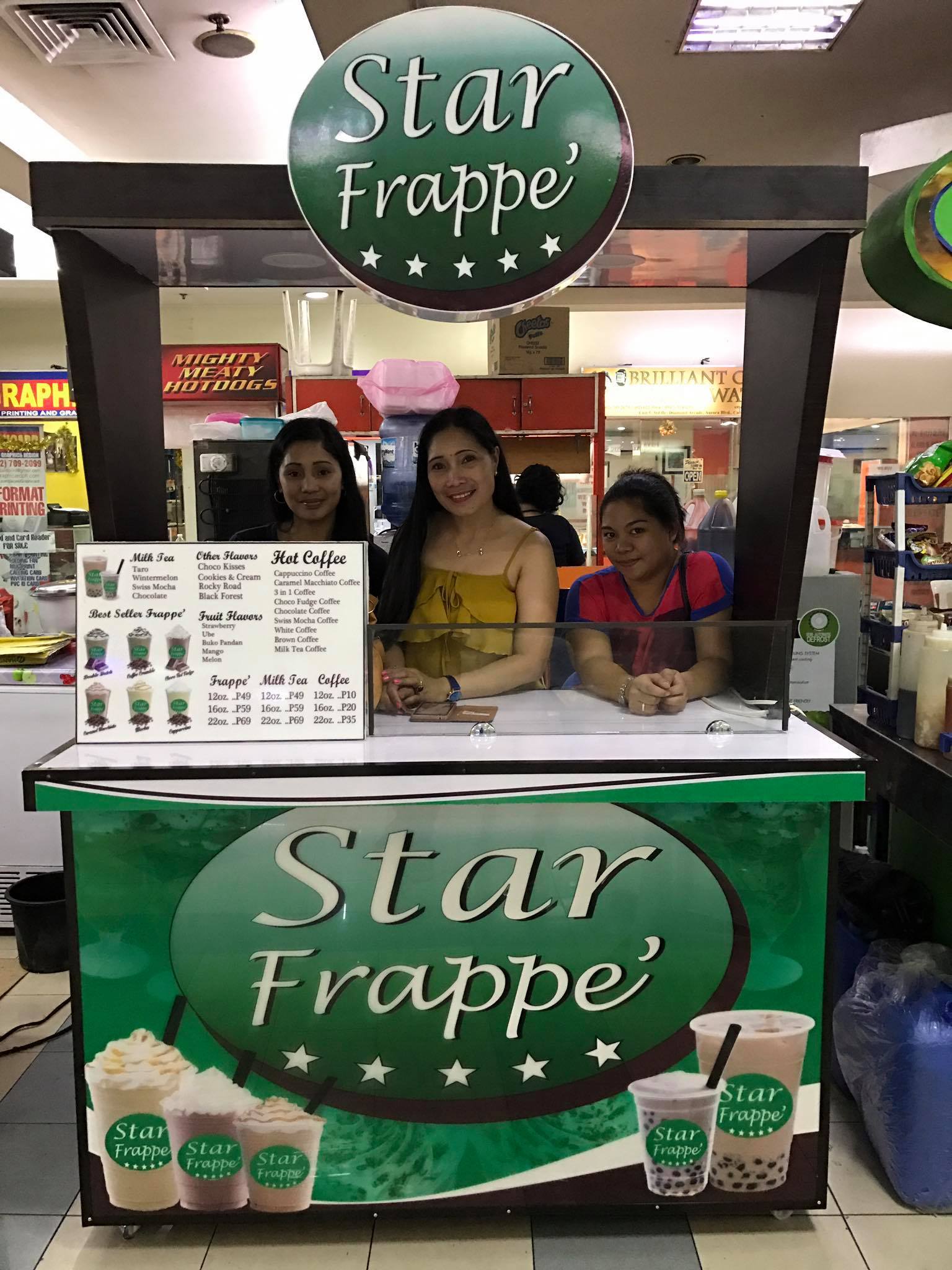 Star Frappe can quench your thirst however you like! Coffee? No problem! Prefer milk tea instead? Done! Their packages are proven to be affordable for what they include and with their increasing expansion there's no doubt that there's success to be made with Star Frappe!
Franchise Information
Franchise Inclusion:
The use of "Star Frappe" trade name
A mini high end food cart (measures 7 ft. x 5ft x2.5 ft.)
Equipment for Star Frappe operation
A heavy-duty blender
An electric ice crusher
Measuring cups
Pitcher and dispenser
Complete set of uniform of one service crew (includes shirt, visor and hair net)
Starting products worth P3,000.00
Business and product orientation
Franchise seminar
Hands-on training for you and your crew
Concept manual
After-sales support
Contact Information
No royalty fee and renewal fee.
Return on Investment: 5 to 6 months
Contact Information:
Address: #17A Ground flr. St. Martin Bldg. Westpoint St., Cubao, Quezon City, Philippines 1109
Website: http://fab.ph/star-frappe/
Phone Numbers: 0917-5323708 / 0998-5928617 / (02)6231856 – Look for Edison
The Frap Bar
The Frap Bar acknowledges how commonplace coffee is in our lives that's why they want you to enjoy bonding with your friends and family! Yes, their products are affordable at no expense of the quality!
Franchise Information
Contract: 5 years
Franchise fee: P350,000
Franchise type: Ice-Blended Only
Cart cost: P160,000 (not included in the franchise fee)
Franchise Inclusion:
Kitchenware
Equipment
Banners
Initial supply of products
POS Machine plus software
Requirements:
Letter of intent
Information of your proposed site (Vicinity Map, Pictures of the Location)
Updated Resume
Completely filled-up Frap Bar Application Form with a 2×2 colored photo
Contact Information
Contact person: Gary M. Espino
Address: G/F Atlanta Centre, Greenhills, San Juan City
Website: www.thefrapbar.com
E-mail: gme920@yahoo.com
Facebook: www.facebook.com/thefrapbar
Telephone no.: (632) 410-9650 | (632) 412-9082
Fax no.: (632) 410-9650
Trueblends
Established in 2009, it became popular among Ateneans because of their quality coffee and non-coffee mixed drinks enjoyed by the students, faculty, and parents alike! Their experiences throughout the years with experimentation of drinks have proven to be a delight!
Franchise Information
Franchise type: Stall
Franchise fee: P200,000
Contract: 4 to 6 years
Total investment cost: approximate P400,000 to P2.4M
Royalty fee: P4,000 to P6,000
Required lot space: 6 to 50 sqm minimum (depending on type of franchise package)
Franchise Inclusion:
Trademarks
Site approval
Training
Procurement procedure
Grand opening assistance
Operations manual on loan
Research and Development

Contact Information
Address: RK Franchise Consultancy Ground Floor Minnesota Mansion, 267 Ermin Garcia, Cubao, Quezon City
Website: www.rkfranchise.com
Email: rk@rkfranchise.com, ateneotruebrew@yahoo.com
Telephone no.:
(02) 912-2946, (02) 955-0734
Caffe La Tea
Caffe La Tea aims to be the perfect spot for you to relax and unwind with your friends and family. Their assurance for fresh hot and cold meals and beverages are something to look forward to again when you come back says a lot in their integrity for their product. If you agree with their philosophy, then you would certainly would want to invest in franchising!
Franchise Information
Contract: 3 years (renewable)
Royalty fee: 5% of monthly gross sales
Ingredients only exclusively bought from Caffe La Tea
Return of investment: 2 years
Franchise Inclusion:
Milk tea food cart package – P350,000.00
Trademark and logo
Operations manual
On-site training and support
Marketing & advertising assistance
Kiosk design and fabrication
Cup sealer
Thermos
Ice chest
Induction stove
Commercial blender
Kitchenware
Staff uniform
Complete initial stocks for approx. 500 cups
Coffee Add-on Package – Additional P150,000
Italian Semi-Commercial Espresso Machine
Hi-Power Grinder
Recipes
On-site training
Initial stock of 200 cups
Contact Information

Facebook page: www.facebook.com/CaffeLaTea
Email: caffelatea@gmail.com
Mobile no.: +63. 998.960.0399
Barako Frappe
A business establishedi n 2014, don't be fooled by its infancy, as it has 150 branches already in its belt and still growing! Javanillax Business Ventures Co. aims to please by innovating with a coffee shop in a kiosk style of business and it shows that it is a profitable venture!
Franchise Information
Currently, franchise details are currently disclosed unless you contact them with the given contact information below.
Franchise fee: P49,999
Franchise Inclusion:
Set of heavy duty equipment
Ready to operate upon set-up
Contact Information
Address:  Unit 3A36 Grand Central Residences Tower 1 EDSA corner Sultan St.,
Brgy. Highway hills, Mandaluyong City, Phillipines
Website: www.barakofrappe.com
Facebook: www.facebook.com/BarakoFrappe
Email: barakofrappe@yahoo.com
Mobile no.: 0977-827-9599, 0929-681-3006
Telephone no.:  (02)-211-2597