Filipinos love to be on the go, and would definitely like to have something to drink with them whether they would be walking around, or just about lounging in a corner.
Foss Coffee Shop enters as one emerging brand in this beverage business. A brainchild of Mr. Edmar Batac, a certified barista and entrepreneur, Foss Coffee was established in 2009, and continues to serve good coffee blends to its customers.
Foss Coffee now has 36 outlets, which is steadily rising as the company opens their brand for franchising. Foss Coffee Shop opens to entrepreneur and individuals who want to have a business in the beverage market.
What A Foss Coffee Business Look Like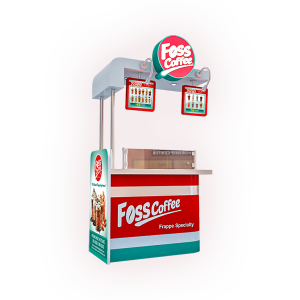 Going into its first decade of operations, Foss Coffee offers a unique blend of coffee drinks that customers can enjoy which is affordable and backed with good customer service and product consistencies.
Foss Coffee is a cart set-up shop that offers customers iced coffee blends and ice blended cream. The brand promises an affordable blended drink experience to their customers and loyal followers.
Having a business with Foss coffee will have a first-time franchisee getting the essentials needed, like the food cart, equipment and utensils, staff uniforms, and an initial supply of store stock. Foss coffee will also provide for site approval.
The company will also be helping out with training for the franchisee, the store supervisior, and the staff. They will also assist with research and development, and assistance on opening day. They will hand out an operations manual on loan.
A franchise package will cost around P280,000.00, with an initial term of four years. Capital requirement is pegged at P400,000.00. The brand has no royalty fee, but will require a continuation fee of Php3,000.00 a month.

For more information about Foss, check out this page at Foss.com.
If You Want to Avoid the 3k Monthly Fee and Want to Sell Here is an Alternative
So if a franchisee is looking for another brand that sells more than just beverages, there is another waiting to be discovered.
Star Frappe Also An Emerging Brand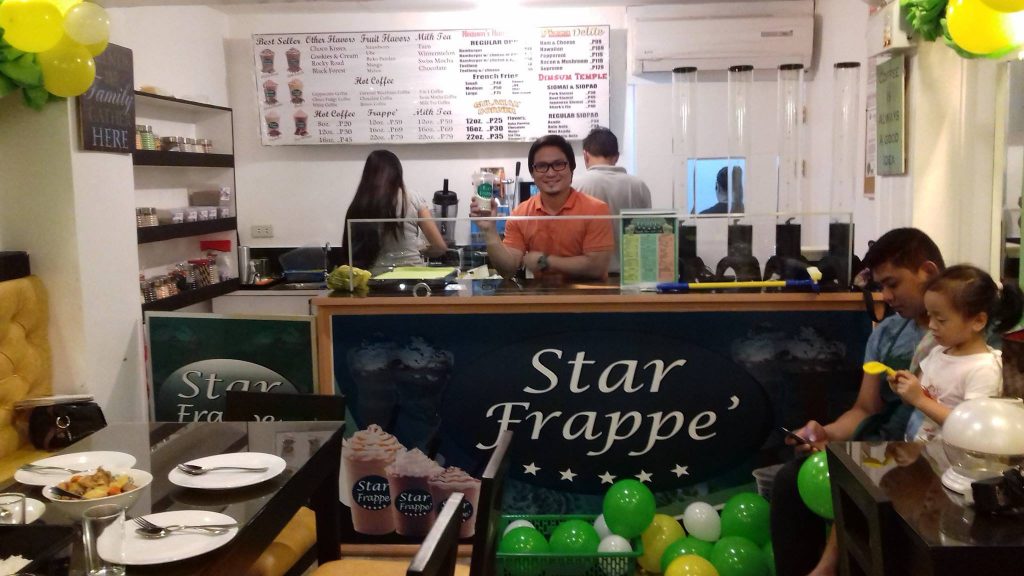 Fab Suffrage inc. offers Star Frappe Snack Bar and Café that also serves coffee, coffee shakes, frappe (frappucino), milk tea and hot beverages, much more like Starbucks. Additionally, they have a wide array of products, from siopao, siomai, rice meals, sisig, for starters.
A required space should be prepared beforehand, with a measure of at least 30-40 sqm to cater the needs of the store and maintain a comfortable ambiance for the customers. This will be used for the brand's café-styled space, with seats that will cater to customers' convenience and rivalling that of Starbucks' space.
Here are all the other inclusions that a Star Frappe franchise will throw in:
The use of trade name and proprietary marks
● Hands-on training for both franchisee and staffs
● Commercial signage, counter and lighted menu
● Marketing, operational and pre-opening assistance
● Continuous site visit and guidance
● All products in the menu
● 5 Concepts complete equipment for the operations
● 2 Cooler ice boxes
● 10 Service crew uniforms
● Chest freezer
● P30,000 worth of products
● 2 Tarpaulin banners
If all those inclusions are not enough, Star Frappe offers their low franchising cost. Having a Star Frappe Snack Bar is very affordable, with a franchising fee at a very low P300,000, very well competing with Foss Coffee's fee. They also offer very flexible in terms of product mishmash and the packages the give out. The franchise term is until three years, which is renewable without any additional fee.
To know more about Star Frappe, visit them at their office address at #17A Ground flr. St. Martin Bldg. Westpoint St., Cubao, Quezon City, Philippines, 1109. You can call them at 0917-5323708,  0998-5928617 or (02)6231856.