In this day and age, people have a lot of work to do, and sometimes experience overtime work. This puts a strain in the mind and increases anxiety and it goes up as we age. Commuting to and from work does not help either, so what do you do help fight the daily stress of our lives? You drink coffee of course!
In moderate amounts coffee helps students and workers with a little pick me up to boost their energy and keep them up the whole day. Which is why there is a lot of café franchises all over the world, as it is in demand more than ever with the increasing population.
Given how popular it is, wouldn't you want to start and franchise a well-known café? Look no further, as we have a list of the top café franchises in the Philippines!
FaB Caffe: Snack Bar and Café Franchise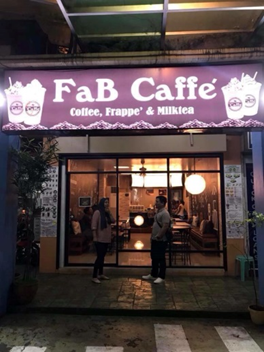 Most café you know probably cost around millions of pesos to start franchising into. This may be too much for budget franchisees and you would definitely want something that is popular, right? Enter Fab Caffe, a small to medium restaurant that provides hot and cold coffee, snacks, milk tea, and rice meals.
The menu they provide caters to everyone of all ages. FaB caffe also encourages you to franchise nationwide, with direct assistance such as location suggestion and helping in the process of registration.
So how much is the franchise? For Php 499,000, you get the following inclusions:
Right to use trade name and logo
Training for franchisee and staff
Commercial signage, counter, and lighted menu, chairs and tables
7 Concepts complete equipment
Initial inventory worth Php 50,000
2 sets of cooler ice box
Chest freezer
10 sets of staff uniform
2 tarpaulin banner
Cash register
After sales support
Marketing support
There is also a free seminar as well as a food tasting event if you are interested in franchising with them. The best part is that there are no other fees and hidden charges after full payment of the franchise package, so you get all the profit!
Address: Office Address: #17A Ground flr. St. Martin Bldg. Westpoint St., Cubao, Quezon City, Philippines 1109
Website: http://starfrappe.com.ph/fab-caffe/
Phone number(s): 0917 125 4451 / 0939 916 3425 / 02 219 5869 (Look for Mr. Edison Gomez)
Coffee Break Franchise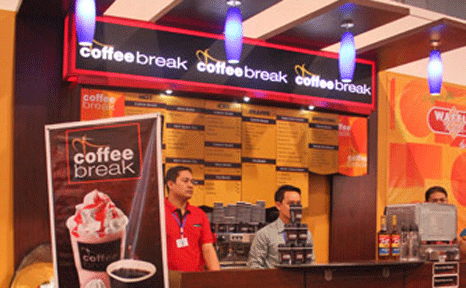 This café is the most recent of the three, but its reputation exceeds it being new. A world class café, Coffee Break first came to be in Iloilo with the aim of providing a gourmet coffee but with an affordable price in mind. Not only do they serve coffee, they also have other stuff in the menu such as hot chocolate drinks, pizza, and pastries for those who crave sweets.
Their recognition as world class does not go without credibility as they are an official member of Specialty Coffee Association of America.
The franchise costs Php 650,000 and includes the following:
Staff training
Staff uniform
Right to use trade name
Operations system
Signage for indoors and outdoors, designs and decorations for the store
Point of Sales (PoS) support
Marketing support
Daily operations manual
Complete equipment and supplies
Hiring assistance
Training program for 30 days
Pre-opening guidance
Location renovation
Permits and utilities expense
Consider this franchise if you like to provide quality experience! You can inquire more about the payment terms with their contact details provided below.
Office address: Coffeebreak Café International Inc., 69 C. Raymundo Avenue, Caniogan, Pasig City, Philippines
Website: www.coffeebreak.com.ph
Facebook page: www.facebook.com/coffeebreakcafe
Email address: customercare@coffeebreak.com.ph
Phone number(s): 0932 892 3353 / 02 641 1151 / 02 584 3704 / 02 584 1601 / 033 335 0935
Figaro Coffee Franchise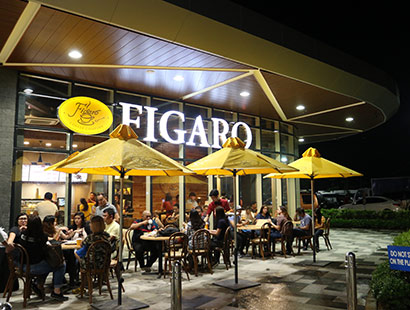 Alongside Starbucks and Coffee Bean and Tea Leaf (CBTL), Figaro Coffee rival giant coffee competitors but competes in an area it has an advantage: affordability. Figaro manages to provide a great coffee experience and taste without sacrificing the quality.
Figaro Coffee supports local coffee bean suppliers as they use the beans for their coffee, helping sustain the lives of Filipino workers in the province. This makes them an ethical upgrade compared to Starbucks and similar coffee chains.
Their affordability does not only benefit customers, because for a modest franchise fee of Php 5,000,000 to Php 8,000,000, you can have your own Figaro franchise and start churning out your own franchise!
Included in the franchise are as follows:
Opening day assistance
Location assistance
Franchisee, manager, and staff training
Store / kiosk design and construction
Equipment, furniture, fixtures, signage (lighted)
Project management fee
Marketing collateral initial budget
Complete set of store operations manual
Initial inventory that includes stocks of warehouse and commissary
Their contact information has been provided below if you are interested in inquiring. It is recommended that you call them to know more about their packages.
Website address: http://www.figarocoffee.com/business/franchise
Email address: franchise@figarocoffee.com
Phone number(s): 632 706 0564 | 632 671-4232 loc 19 | 63932 846 8228