Fresh coconut juice is a remarkable healthy drink. It is as tasty refreshing drink as it is, while at the same time bringing in health benefits. Besides the fact that it is a diuretic, an aide for body waste elimination, coconut juice helps eliminate high blood sugar and cholesterol, prevent head pains, and helps replenish body cells naturally.
Fresh coconut juice is good for on the go people too. That is why brands offering the healthy, nutritious and refreshing drink are sprouting here and there.
Buko Juan Franchise Among The Buko Brands In The Market

Over time, the drink is served on a variety of ways, from natural coconut water, to shakes.  One such brand is Buko-Juan, one of the food cart products introduced by Mang Juan Franchising Corporation.
Founded in August 2001 by a young entrepreneur, the company has sold the brand's coconut beverage to customers, with their branches placed in malls, supermarkets, commercial areas, LRT stations, up to universities and schools nationwide.
Mang Juan Franchising offers Buko-Juan to potential franchisees who would like to take a swim into the coconut beverage business. But while they are a dime a plenty, there are some other brands who would just as very well compete in the market.
Contact Details: http://www.bukojuan.com/
Buko Fresh As The Go-To For Coconut If You Cannot Afford The Buko Juan Franchise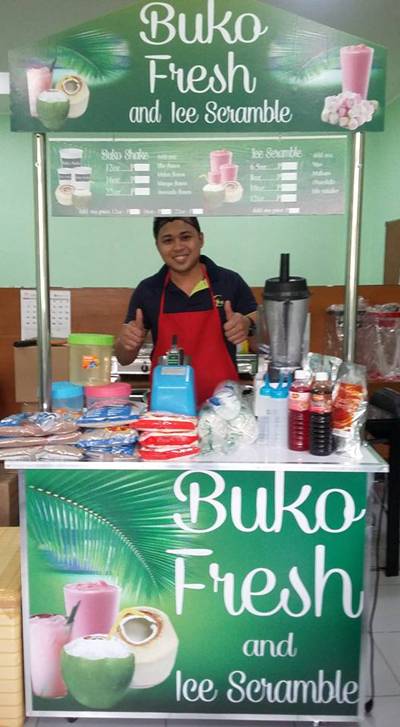 Here is where Fab Suffrage Inc. comes in. They have their Buko Fresh brand that offers coconut beverage, and a lot more.
When you do business with Buko Fresh, you will be serving shake products ranging from Fresh Buko Meat, up to even flavoring it with fruits like avocado, mango, melon, and ube
To fill in the uniqueness factor, Buko Fresh also offers Scramble. This is shaved ice mix with caramelized brown sugar, gulaman, topped with milk powder or condensed milk and chocolate syrup. Scramble is a cold concoction is very famous and popular to Filipino kids.
The Scramble product ranges from their classic flavor, to buko pandan, chocolate, mocha, ube, and melon. Customers can choose toppings of choco droplets, sprinkles, marsh mallows, and others.
Buko Fresh offers franchising packages for interested parties. They have a very promising array pf packages to choose. Their SILVER FRANCHISE PACKAGE for example would cost PHP 59,000, and one will have a semi Kiosk type Food Cart (5ft x 2.5ft x 6.5ft). It will also include a complete Set of Heavy Duty Equipment
1 Industrial Blender
1 Ice crusher
1 Coffee maker
1 Styro box for Ice Scramble
Measuring cup, Pitcher & beater
Sauce Dispenser & Canister
More than that, the franchise will also throw in the following:
*2 Set Crew Uniform (Polo-shirt, apron, hairnet, Visor & Mouth guard)
*P3,000 worth of Free products
*Cooler box
*Banner Ads with stand
*Franchise Seminar
*Crew Hands-on Training
*Inventory Kit
*Video Training & Operations Manual
*Costing and Pricing Manual
*Notarized Franchise Agreement
*After Sales Support
And Fab Suffrage, Inc will ensure that their Buko Fresh franchise will have no royalty fee, no renewal fee, no hidden charges, and no sales quota. They also promise a return of investment in five to six months.
Fab Suffrage, Inc is offering Buko Fresh for franchising and distributorship nationwide. They will also assist in recommending locations, and will also extend assistance with business registration.
FaB Suffrage, Inc  opens Buko Fresh for franchising and distributorship nationwide. To learn more about the brand, interested parties can visit FaB Suffrage's home office at Ground flr. St. Martin Bldg. Westpoint St., Cubao, Quezon City, Philippines 1109. Contact Mr. Edison Gomez at 09985928617 / 09175323708.