For any investor, an important part of a business investment is the return. The return of investment (RoI) allows you to know how long a business takes to become profitable. The downside is the risk – you do not know if it would even generate long term success as it is experimental.
Not only do you invest in something as risky as a new business, you are unlikely to get your money back. For entrepreneurs who prefer not to risk too much of an investment, a franchise whose experience comes from many years of gaining a following is better than starting anew.
Being able to know your money is at safe hands is something everything would like. So why not try franchising? If you have the budget, check out these businesses that offer expansion through franchising – businesses under Php 400,00!
If you are keen on investment, check out these businesses.
Café Tribu Franchise
Quick, how many Filipinos do you know that drink coffee? If your answer is "a lot" then you would be right, multiplied by 10x! Caffeine is a good energy booster for people which makes it a popular drink of choice.
Coffee shops are plenty here but continue to sprout up one by one. Everyone who loves coffee also would want to take a break from work and life by having a place to just relax and have conversations. Café Tribu offers just that. With an all day breakfast and beverages such as coffee and tea, they provide a haven for those who want to unwind.
Franchise term: 3 years (Php 11,000 renewable)
No royalty fees
No sales quota
For Php 390,000 franchise fee, you get this Café Tribu package:
Kiosk Cart
White Acrylic w/ cut out letter Signage
LED TV
Table top black formica
Food cart frontage w/ corrugated g.i roof; w/ Café Tribu logo
Palo china wood header
Equipment
Initial inventory worth Php 3,000
Canister
1 unit coffee maker
2 units of blender
1 unit whipping cream dispenser
1 cocktail shaker
1 bar spoon
1 jigger
1 powder scooper
1 squeeze bottle
1 measuring pitcher
Support
Training – 15 days
Business registration support
Manpower support – 1 week onsite
2 sets pf imofpr,
Monitoring – Site Visit:
Before / During Construction.
Before / During Opening of Store
Provide all information and technology needed for operations
An interesting offer, right? Café Tribu encourages you to inquire about their franchise. If you want immediate response, give them a call or text through the following information:
Website: https://www.cafe-tribu.com
Mobile number(s): 0905 220 2689 | 0947 360 5030
Telephone number:  02 738 6725
Buko Fresh and Ice Scramble Franchise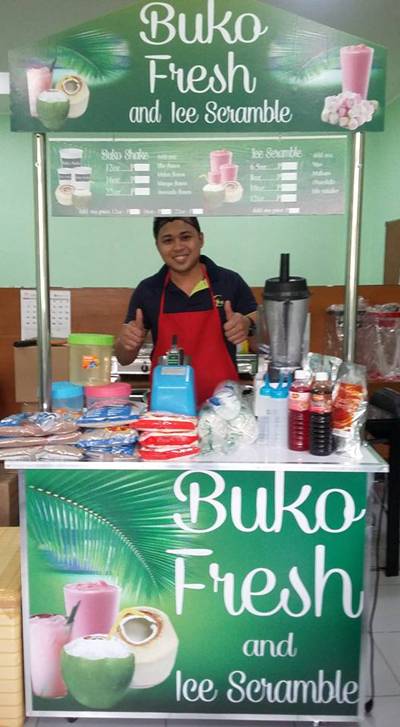 FabSuffrage Inc. introduced this business in 2014. Buko Fresh and Ice Scramble offers a simple business: mix buko meat with flavored powder, the customer then has the option to add toppings like chocolate chips, marshmallows, nips, and mixed candies!
A unique take to on the buko and ice scramble experience, the combination is a fresh way they are able to differentiate themselves from other food cart competitors.
How much is it, you ask? Only Php 99,000! For such price, you get the following:
The use of "Buko Fresh" trade name
A mini high-end food cart (measures 7 ft x 5ft x2.5 ft)
Complete set of uniform of one service crew (includes shirt, visor and hair net)
Starting products worth P3,000.00
Business and product orientation
Franchise seminar
Hands-on training for you and your crew
Concept manual
After-sales support
Equipment for Buko Fresh operation
A heavy-duty blender
An electric ice crusher
Styro box with egg beater
Measuring cups
Pitcher and dispenser
You also don't have any hidden charges such as royalty fees, all that profit belongs to you!
Beginner friendly and innovative, you might just want to take interest in it, in which case, their contact details are below.
Office Address: FaB Suffrage Inc / Fab Suffrage Food Services
17-A G/F St. Martin Bldg. Westpoint St. Cubao, Quezon City 1009
Landmarks: LRT Aurora Cubao Station in front of Gateway. Chowking corner WestPoint Street. After St. Gabriel and Dehadista Bar.
Website: http://www.starfrappe.com / http://www.fab.ph
Facebook page: Fab Suffrage Inc.
Email address: ifabfranchise@gmail.com
Mobile number: 0917 125 4451 | 0939 916 3425
Telephone number: 02 219 5869
If you want a free consultation, show room viewing, product tasting or any inquiries, you can set an appointment with Mr. Edison Gomez from Monday to Saturday (10:00AM – 6:00PM).
Dimsum Republic Franchise
Dimsum Republic was awarded back in 2007 with the most outstanding food cart business in the Philippines. Their membership with the Philippine Franchise Association also shows their commitment to abiding to rules and regulations for food safety.
The company that owns Dimsum Republic, KJA Global Franchising Company Inc. (KJA GFCI), provides food cart franchises for returning OFWs, retirees, and for investors who want passive income.
For only Php 250,000 franchise fee, you get the following:
Trade name and logo
Staff uniform
Food cart
Marketing collaterals
Initial inventory
Initial packaging materials
Training for franchisees and staff
Site assistance (on malls)
Preparation for pre-, during, and post-opening day
Operations manual
Interested? Here are their contact information:
Office Address: 239 C. Cordero Street, corner 7th Avenue, West Grace Park, Caloocan City
Email address:  info@kjasummit.com
Website: www.kjasummit.com
Phone numbers:
632 348 6786 | 632 542 3716 | 632 442 1648
639228 DIMSUM | 63228 346 786
639228 KJA 777 | 639228 552 777
639228-KJA-333 | 639228-552-333